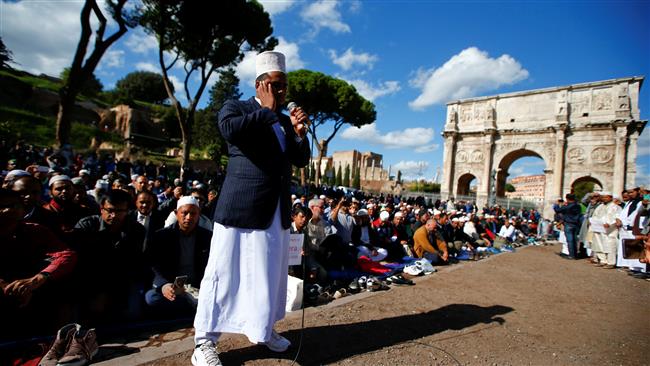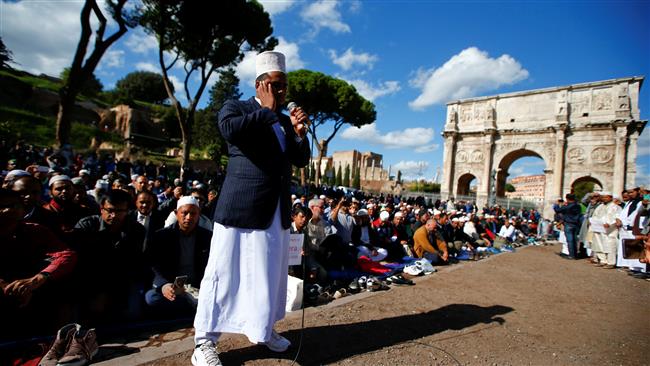 Hundreds of Muslims in Italy have held a demonstration in Rome to express their outrage at recent mosque closures in the capital.
Protesters gathered in front of the Colosseum, an ancient oval amphitheatre, in central Rome on Friday, kneeling on prayer mats and tarpaulin on the pavement.
Holding placards reading, "Peace" and "Open the mosques," the demonstrators called on city authorities to intervene and protect their religious rights.
The Dhuumcatu Association, a rights group that organized Friday's event, said the police have closed three improvised mosques in Rome in recent months. It also underlined the need for clear rules on setting up mosques in the European country.
"We are sick of the criminalization of our places of worship," the group said on its Facebook page, adding, "There are no relevant regulations, and we cannot invent solutions independently of the authorities."
Sikdir Bulbul, a 41-year-old Bangladesh-born Italian citizen, said the mosque, which he had contributed to its establishment in 2012, was shut down in September.
"Friday prayer is very important to us so today we have come to the Colosseum. Otherwise where else can we pray?" he asked.
At least 1.6 million Muslims live in Italy, but there are only a handful of mosques officially registered with the government, with most worship rituals taking place in houses and Islamic cultural centers.
In August, Italian Interior Minister Angelino Alfano said that "mini mosques in garages" should not be prohibited.
Germany mulls ban on face veil
In another development on Friday, Germany proposed a draft bill to prohibit state officials from wearing face veils, citing what it describes as "communication" problems caused by such a covering.
The bill presented by the German Interior Ministry on Friday claims that concealing the face restricts "the possibility to get to know and evaluate someone's personality."
It also compels women, who are employed by the state, to "wear no clothing that makes open communication impossible or more difficult."
The draft bill further stipulates that all women, who wear face veils, should show remove the cover during passport controls, court rulings and at polling stations.
Latest disputes broke out about bans on Muslim women garments in several European countries after some French Mediterranean cities banned the burkini, the full-body Islamic swimsuit. France, which has the largest Muslim minority in Europe, banned the wearing of the burqa and niqab garments in public in 2010.
However, there is no regulation restricting the wearing of veils in Germany that has nearly four million Muslims, about five percent of the total population.
In August, Interior Minister Thomas de Maziere proposed the partial face veil ban, saying that face covering "has no place" in the country. German Chancellor Angela Merkel also spoke out against the face veil.