Syria
Mustard gas used in Syria war in August: OPCW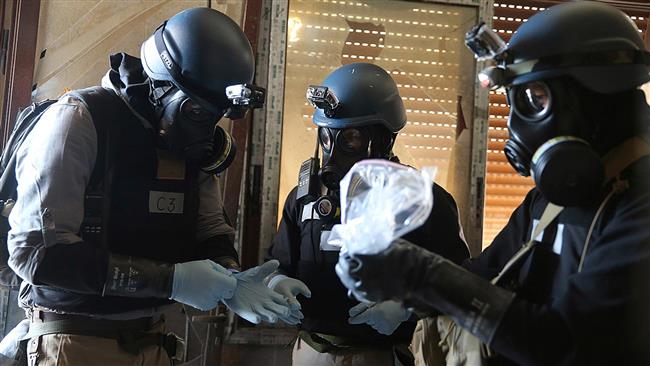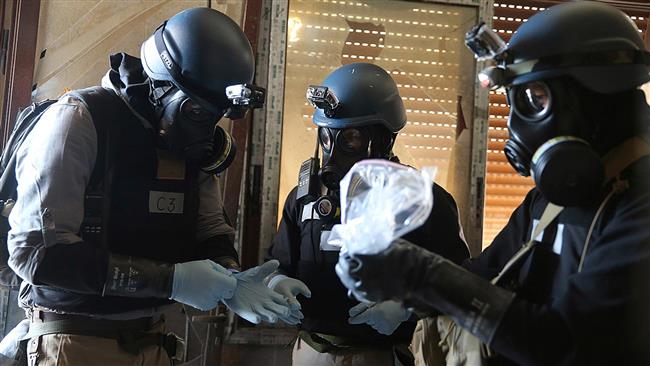 The Organization for the Prohibition of Chemical Weapons (OPCW) says chemical weapons have been used in the northern Syrian province of Aleppo in August.
An official with the global chemical arms watchdog said on Thursday that weapons experts have come to the conclusion for the first time that mustard gas was used during fighting in the town of Mare' in the northern province of Aleppo on August 21.
The watchdog, however, stopped short of determining which group perpetrated the attack, adding, "We have determined the facts, but we have not determined who was responsible."
A confidential report on the issue has been sent to the OPCW member states.
Reports said in late August that dozens of people were affected by a chemical attack on Mare' that had been the scene of fighting between the Daesh Takfiris and rival militant groups.
Doctors Without Borders (MSF) said it had treated four civilians from one family who were injured in the attack.
Patients at an MSF hospital in Aleppo said that a mortar hit their house and "after the explosion a yellow gas filled the living room."
According to the militant groups operating in the city, the Daesh Takfiri group launched in excess of 50 mortar shells on the city the day the chemical gas was used.
Local media, including Syria's official SANA news agency, reported in August that the Daesh Takfiri group had launched the attack.
The extremists had previously launched several chemical attacks in various areas under their control in Syria and neighboring Iraq.
Mustard gas, which can form large blisters on exposed skin and in the lungs, is banned under the Chemical Weapons Convention, which is an arms treaty intended to stop the use of chemical weapons.
The Daesh militants have been carrying out horrific acts of violence, such as public decapitations and crucifixions, against all communities, including Shias, Sunnis, Kurds, and Christians in areas they have overrun.