Islamic Awakening
Muttahida Ulema-e Ahl-e Sunnat wal-Jamaat Protests Saudi-Bahrain Ties, call unity among Muslims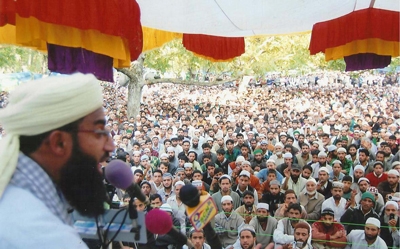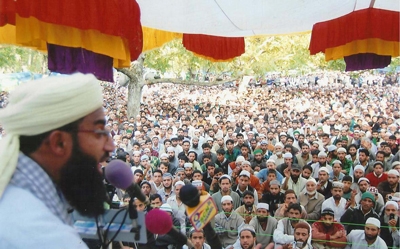 Massive protest demonstrations were held in several parts of Indian administered Kashmir after Friday prayers to denounce proposals for closer ties between restive Bahrain and Saudi Arabia.
Addressing a Friday congregation at Jamia Masjid in south Kashmir's Anantnag district, Mirwaiz South Kashmir, Maulana Dr Qazi Yasir Ahmad condemned the plan by Persian Gulf Arab states to forge tighter regional unity, asserting it is an ominous conspiracy of the US and Saudi Arabia to contain growing dissent in Bahrain and counter the Islamic Awakening movement in the region.
The chief spokesman of Jammu and Kashmir Muttahida Ulema-e Ahl-e Sunnat wal-Jamaat (MUASWJ), stating a clear distinction between Yazidi Muslims and Hussainy Muslims, declared, "We are Hussainy Muslims, not Yazidi Muslims".
President Imam Azam College, condemning Saudi's unnecessary intervention in Bahrain, said, "Saudi Arabia fears that if Bahrain's popular movement succeeds in toppling the regime, it will pave way for an overthrow of Saudi monarchy."
Mirwaiz Yasir further said, "United States supported the movement in Syria and in Libya, but why has it adopted double standard towards Bahrain, and is trying crushing the popular movement there?
"We support the popular movement in Bahrain and strongly the dangerous conspiracies of America and Saudi Arabia to hijack this movement."
Dr Yasir said that until the reign of Najdis does not end in Saudi Arabia, "we will continue to pray against them".
Thousands of people present on the occasion expressed their solidarity with the people of Bahrain and raised slogans in support of Bahrain's popular movement.
Stressing the need for Muslim unity, Mirwaiz Dr Qazi Yasir said, "We are proud of
the fact that we are in Hussayn's army and not that of Yazid's."
Speaking on the occasion, Bureau chief Taghrib News Agency (TNA) Indian sub-continent bureau, and member of World Forum for Proximity of Islamic Schools of Thought, Hujjatul Islam Wal-Muslimeen Haj Abdulhussain Moosvi Kashmiri, said that God has called the followers of prophet Mohammad (SAWW) as source of goodness and piety.
Describing the differences between Islamic schools of thought as "good sign", Abdulhussain Kashmiri said, "The differences should be viewed from a scholarly point of view. We must avoid drawing conclusions based on ignorance."
Quoting the first Imam and fourth caliph of Muslims, Hazrat Ali ib Abu Talib (AS) that a person who performs acts of kindness is superior to the kindness itself and vice versa, Abdulhussain said, "A Muslim can become greater than Islam provided he remains steadfast in following the teaching of Islam."
The chief editor Taqrib Friday edition urged Muslims to emerge as a "superior community" so that the arrogant powers do not have to decide the fate of Muslims.
"All of us present at Jamia Masjid here, while urging the Muslims to unite, pray to Almighty to guide us in our endeavour and our commitment to follow the teachings of Islam," he said.