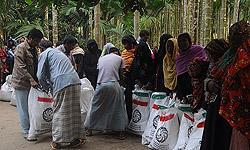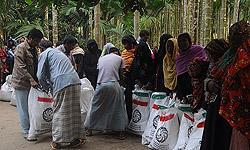 Iran's first shipment of humanitarian aid was delivered to Myanmar's Rohingya Muslims in the state of Rakhine after weeks of delay due to the Southeast Asian country's critical conditions, specially in border areas.
The Iranian consignment containing foodstuff was dispatched to Myanmar's refugee camps in Rakhine through neighboring Bangladesh.
The UN says decades of discrimination have left the Rohingyas stateless, with Myanmar implementing restrictions on their movement and withholding land rights, education and public services.
Since June, hundreds of members of the nearly-one-million-strong Rohingya Muslim minority have been killed and tens of thousands of others among them have been displaced in the west of the country due to a wave of communal violence.
On Friday, a senior Iranian legislator expressed serious concern over Buddhists' attacks against Rohingya Muslims, and called on the UN to adopt practical measures to end violence and violation of human rights against Myanmarese Muslims.
Mehrdad Bao'uj Lahouti dismissed non-binding resolutions approved by the UN as ineffective in resolving the problems of Rohingyas, and said that the UN must deal with human rights violations across the globe without double-standard behaviors.
More than 22,000 people from mainly Muslim communities have been forced to flee their homes in Western Myanmar after a fresh wave of violence and arson that left dozens dead, the UN said in a report on October 29.
The whole neighborhoods were razed in Buddhists' attack on Muslims in Rakhine state a week earlier.
Some 75,000 people are already crammed into overcrowded camps following clashes in June.
The United Nations chief in Yangon, Ashok Nigam, said government estimates provided in late October said that 22,587 people had been displaced and 4,665 houses set ablaze in the latest bloodshed.
"These are people whose houses have been burnt, they are still in the same locality," he said, indicating that thousands more who had fled in boats towards the state capital Sittwe may not be included in that estimate.
"It is mainly the Muslims who have been displaced," he said, adding that 21,700 of those made homeless were Muslims.
The latest attack against Muslims has killed more than 80 people, according to a government official, bringing the total death toll since June to above 170.
Human Rights Watch earlier this month released satellite images showing "extensive destruction of homes and other property in a predominantly Rohingya Muslim area" of Kyaukpyu.
Myanmar's 800,000 Rohingyas are seen as illegal immigrants from neighboring Bangladesh by the government and many Burmese – who call them "Bengalis".
The United Nations considers Rohingyas as one of the most persecuted minorities on the planet.