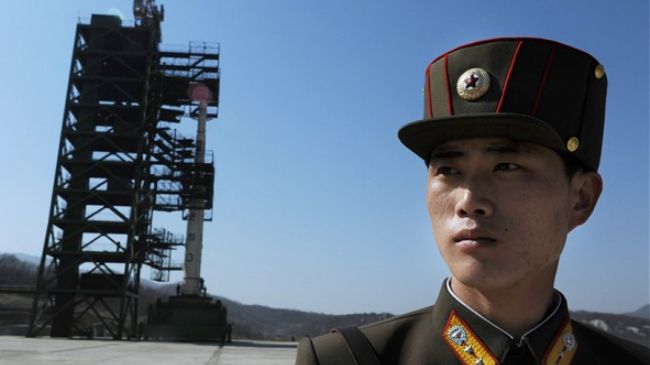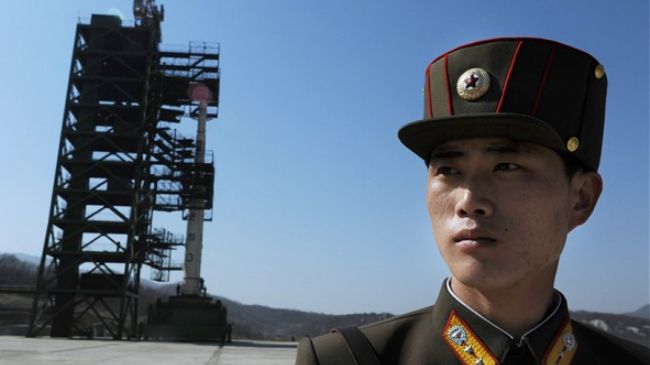 North Korea has reiterated that it will carry out a high-level nuclear test in defiance of fresh UN sanctions against Pyongyang's December rocket launch, saying it is the "demand of its people."
A soldier stands guard in front of the Unha-3 (Milky Way 3) rocket in North Korea.
"A nuclear test is the demand of the people," Rodong Sinmun, the official daily newspaper of the ruling communist party, said on Saturday.
"The people's demand is that we must do something even greater than a nuclear test. The United Nations Security Council has left us with no other options. We have no other ways but to push forward to the final showdown," the daily said.
"The greatest threat to peace and security on the Korean peninsula comes from the hostile policy of evil forces led by the United States and the vast US nuclear arsenal backing them," added the signed commentary titled "We have no other option".
The renewed warnings comes a day after Pyongyang said the recent UN sanctions amounted to a "declaration of war," threatening South Korea with "physical countermeasures" if it participates in the sanctions.
On Thursday, Pyongyang said it would launch more long-range rockets and carry out a high-level nuclear test aimed at its "arch-enemy the United States."
The North Korean National Defense Commission said that the UN resolution "masterminded by the US has brought its hostile policy towards the Democratic People's Republic of Korea (North Korea) to its most dangerous stage."
Meanwhile, White House spokesman Jay Carney criticized Pyongyang's remarks as "needlessly provocative." "Further provocations would only increase Pyongyang's isolation, and its continued focus on its nuclear and missile program is doing nothing to help the North Korean people."
US Defense Secretary Leon Panetta also said Washington was "fully prepared to deal with" a test from North Korea.
On January 22, the UN Security Council adopted a resolution to impose new sanctions on North Korea for launching a long-range rocket on December 12, 2012.
Pyongyang announced it had launched a long-range rocket from the Sohae Satellite Launching Station, located in Cholsan County of North Pyongan Province, and successfully placed a satellite into orbit.
The rocket launch, however, drew widespread criticism from the European Union and the UN.
On December 14, North Korean leader Kim Jong-un said the country would go ahead with its space program and would launch more rockets and send more satellites into orbit.
However, Washington and its allies said the North Korean rocket launch had been a cover for testing an intercontinental ballistic missile capable of carrying a nuclear warhead.