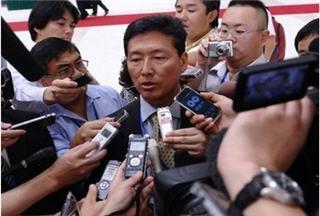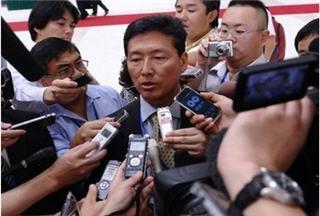 North Korea warned Saturday that joint US and South Korean military drill set to begin this weekend will draw a nuclear response from Pyongyang.
The two countries announced earlier in the week that they would stage the drills to send a clear message to North Korea to stop its "aggressive" behavior.
In Hanoi, a North Korean spokesman for the delegation attending a regional security conference warned Friday that the drills would draw a "physical response" from Pyongyang.
On Saturday, North Korea's powerful National Defense Commission — headed by leader Kim Jong Il — backed that threat up by promising a "retaliatory sacred war" against South Korea and the US for what it called a second "unpardonable" provocation.
"The army and people of the (North) will legitimately counter with their powerful nuclear deterrence the largest-ever nuclear war exercises," the commission said in a statement carried by the country's official Korean Central News Agency.
The nuclear-powered USS George Washington supercarrier is already docked in the southern port of Busan for the military games set to begin Sunday. In addition, the US keeps 28,500 troops in the South, a presence that Pyongyang cites as a key reason behind its drive to build nuclear weapons.
"The more desperately the U.S. imperialists brandish their nukes and the more zealously their lackeys follow them, the more rapidly the (North's) nuclear deterrence will be bolstered up along the orbit of self-defense and the more remote the prospect for the denuclearization of the Korean peninsula will be become," the commission statement said.
The US-South Korean military drills are to set to run through Wednesday, with about 8,000 US and South Korean troops on some 20 ships and submarines carrying out exercises in the East Sea.
The drills also involve some 200 aircraft, headlined by four US Air Force's F-22 "Raptor" stealth fighters.