Bahrain
Nabeel Rajab: I will not participate in any political activity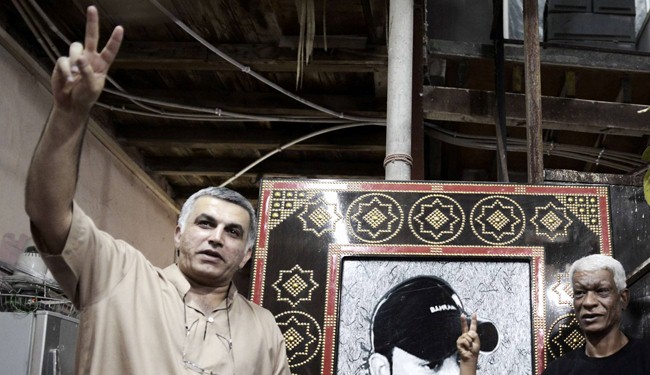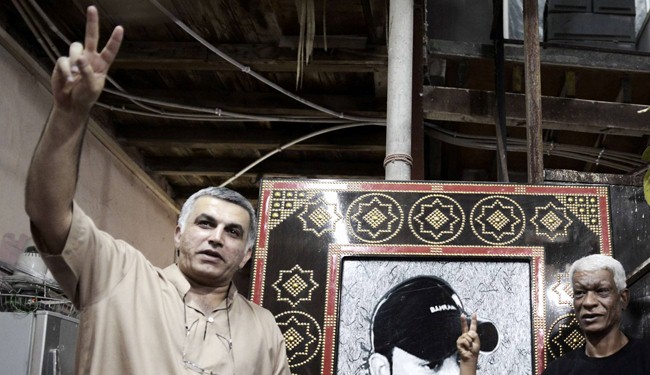 Newly-released Head of Bahrain's Center for Human Rights Nabeel Rajab says he has no intention of pursuing political activities and he'd rather continue his human right activities, not only in Bahrain, but also throughout the region.
Speaking to Al-Alam on Tuesday, Rajab said he finds Bahrain's current condition worse and more concerning than before he was arrested some two years ago.
Rajab was arrested in 2012 for taking part in pro-democratic protests that started in Bahrain following the Arab Spring but faced a brutal crackdown by Bahrain's Saudi-backed government.
An appeals court later reduced his original three-year term by a year.
Rajab said during his two years in prison he was completely separated from the outside world and though his family visited him every two weeks, they were never allowed to speak about anything related to politics and human rights.
"I don't have any intention of working in politics, and I want to continue my activities in human rights and develop them through Bahrain and throughout the region… I will not accept any political position in the government or within the opposition," Rajab told Al-Alam.
In addition to his role with the BCHR, Rajab is deputy secretary general of the International Federation for Human Rights (FIDH).
Before his imprisonment in July 2012, Rajab was repeatedly detained in connection with the pro-democracy protests that erupted in the Persian Gulf kingdom the previous year.
Rights groups, including Amnesty International and Human Rights First, have campaigned on behalf of Rajab throughout his prison sentence, calling on the authorities to release him.
"I am free and I will remain free and I will die free, and I will write everything I believe in, whether the regime accepts them or not, whether the ruling family likes them or not. I will continue working for human rights in defending victims and those who have been forgotten in the country," the Bahraini human rights activist said.
He called on the Bahraini nation to be united so that they could end Al Khalifa family's 'dictatorship' and form a democratic government which believes in human rights and justice and freedom.
"The Bahraini nation believes in these values and fights for them and will continue its battle in defending these values and will come out victorious."
Over the past years, Bahrain's human rights record has come under scrutiny over its handling of the anti-regime demonstrations across the country.
Since mid-February 2011, thousands of anti-regime protesters have held numerous demonstrations in the streets of Bahrain, calling for the ruling Al Khalifa family to relinquish power.
Scores of people have been killed and hundreds of others injured and arrested in the Manama regime's ongoing crackdown on peaceful demonstrations.