Palestine
NAM decries Zionist regime crimes in Gaza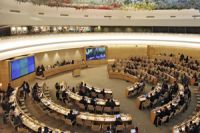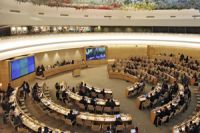 The Non-Aligned Movement (NAM) has warned the UN Human Rights Council (UNHRC) about the Zionist regime crimes in Palestinian territories, calling for an end to Tel Aviv's blockade of the Gaza Strip.
Addressing a UNHRC session on Monday, Iranian Ambassador to the UN Office in Geneva Mohsen Naziri-Asl voiced the bloc's concern over the increasing brutal carnage of Palestinians by Israeli soldiers, the construction of a separation barrier in the occupied West Bank, Tel Aviv's land grab, and the ongoing siege of the Gaza Strip, among other things.
Iran currently holds the rotating presidency of the NAM.
Naziri-Asl called for the reversal of illegal sanctions on the populated coastal sliver and freedom of travel for over 1.5 million Palestinians living in the Gaza Strip.
The Iran envoy also urged the immediate release of Palestinians, especially women and children, held in Israeli jails, and called on the international community to take action in favor of the Palestinian prisoners with regard to Article 76 of the Fourth Geneva Convention, which prohibits the transfer of detainees out of the occupied territories.
The official condemned the continued occupation of Palestinian territories by the Israeli regime as the violation of the very basic rights of Palestinians.
He called for an end to the occupation of all Palestinian territories, especially the illegally annexed city of al-Quds, and the return of all Palestinian refugees to their homeland.
Naziri-Asl further stressed NAM's support for the Palestinians' right to live in their homeland, decide their fate and hold assemblies.