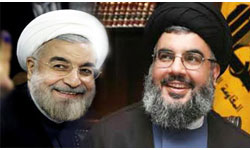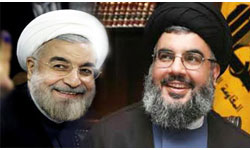 Hezbollah secretary-general Seyed Hassan Nasrallah cabled Hassan Rouhani on Sunday congratulating him on his victory in Iran's presidential election.
"Hezbollah along with all the mujahideen in this country of resistance congratulate you … for aptly earning the big trust of the great people," Nasrallah said in the cable, Naharnet reported .
He told Rouhani that his victory met the "expectations of the Iranian people," and "renewed the trust of the vulnerable friends and brethren in the Arab and Islamic world".
Iran's Interior Minister Mostafa Mohammad Najjar announced Saturday evening that from a total number of 36,704,156 ballots cast in Iran's 11th presidential election on Friday June 14, Rouhani won 18,613,329 votes while his main rival Mohammad Qalibaf could secure only 6,077,292 votes.
Hassan Rouhani, born on November 12, 1948, is an Iranian politician and Shiite Jurisprudent.
He has been a member of the Assembly of Experts since 1999, member of the Expediency Council since 1991, member of the Supreme National Security Council (SNSC) since 1989, and head of the Center for Strategic Research since 1992.
Rouhani has been also vice-speaker of the 4th and 5th terms of the Iranian Parliament and secretary of the SNSC from 1989 to 2005.
Rouhani was the country's top negotiator with the world powers on Iran's nuclear program for 16 years.