Hassan Nasrallah
Leaders of Ummah
Lebanon
Middle East
Qasem Suleimani
Nasrallah Slams US Bans on Officials, Says Glad about Trump's Humiliating Downfall
The secretary general of the Lebanese Hezbollah resistance movement praised Free Patriotic Movement leader Gebran Bassil's "courageous stance" over US sanctions imposed on him last week.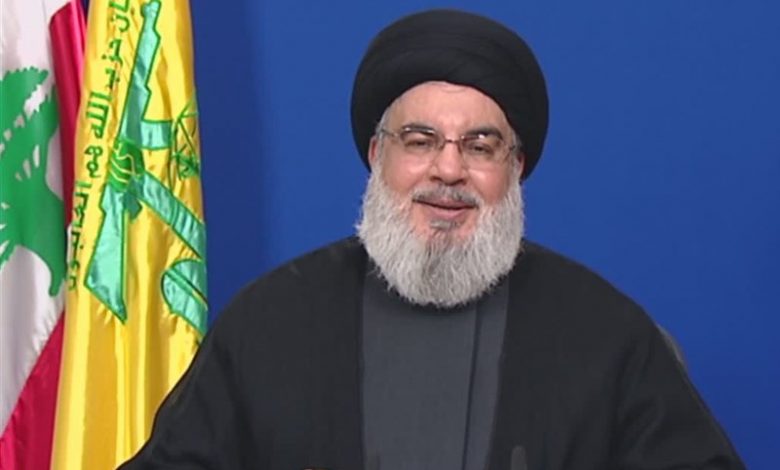 "Bassil came to inform me and told me the US gave him two choices and that he wouldn't comply with the demand (to break ties with Hezbollah), because it would compromise Lebanon's independence and freedom … it was a courageous and patriotic stance," Nasrallah said during a televised address on Wednesday, the Daily Star reported.
"I advised him to take any position to avoid getting harmed," Nasrallah said, adding that he offered to help Bassil in "any way we can."
"Bassil said he didn't need our help, but wanted to keep us in the loop," he said.
"We applaud Bassil's decision," Nasrallah said, and asked for others to stand in solidarity with him.
Nasrallah lambasted the US for imposing sanctions on Lebanese officials, as two former ministers from two parties were also blacklisted in September.
"With what legal and moral right does the US classify who is corrupt or not? A country that is the leader in terrorism and corruption," he said.
Nasrallah said that sanctioning Lebanese officials was a sovereign issue and that he would not be happy if his opponents were sanctioned or listed as terrorists, and that it is a violation of Lebanon's sovereignty.
Bassil Friday was blacklisted by the US under the Magnitsky Act for corruption and human rights violations, however in a speech Sunday, the FPM leader revealed that the prime demand of the US was for him to break his alliance with Hezbollah and that there was "no mention of corruption" in his conversations with US officials.
"If you are saying that Bassil is corrupt … if he breaks ties with Hezbollah will he stop being corrupt? You are contradicting yourself," Nasrallah said addressing the US.
Nasrallah also accused the US for manipulating the dollar currency and using the deterioration of the economy as a weapon to turn the Lebanese people against Hezbollah by holding the group responsible.
He noted that the US largely failed in its mission.
Speaking the day of another round of indirect talks between Lebanon and Israel over maritime border demarcations, Nasrallah stressed that the negotiations did not mean that a normalization of relations would follow.
"Many said that Amal and Hezbollah's approval of maritime border negotiations would pave the way for normalization between Lebanon and Israel … there is no comment on this, it is empty talk," Nasrallah said.
Nasrallah said that ever since Speaker Nabih Berri announced the framework of the negotiations in September, many political parties and the media, especially those of the Persian Gulf, started to link the talks with the normalization agreements of other Arab countries in the region with Israel the talks coincided with.
"As the resistance we don't interfere in the land and border demarcations, this is the responsibility of the Lebanese state through its constitutional institution … (the state) decides what the borders are and the resistance will adopt that and defend it," he said.
Nasrallah said that all his party demanded was for the talks to be indirect and for them to be on technical matters only, so that foreign companies could later be able to invest in those areas.
"The negotiations are technical and solely about the borders and not a prelude to anything else," he reiterated.
He added that if the results of the talks get to the Parliament or Cabinet where they have representatives, then they will decide if they give an opinion or no.
Nasrallah added that when Berri was negotiating the framework for the indirect talks, they were aware that President Michel Aoun would be the one to be responsible of the file. "We have full confidence in the president on handling this issue."
He explained that what Amal and Hezbollah disagreed with Aoun on was a minor detail, which was on the makeup of the delegation that would represent Lebanon in the talks, as the Shiite parties rejected the participation of civilians and insisted on only appointing military personnel.
"We released a statement to register our stance on this but that did not mean that we do not have trust in Aoun (to lead the talks)," he said.
Two of the four Lebanese negotiators are civilian. In addition to lead negotiator Brig. Gen. Bassam Yassin and Navy Col. Mazen Basbous, Lebanese Petroleum Administration board member Wissam Chbat and maritime affairs expert Najib Massihi are also a part of the delegation.
Nasrallah noted that the Lebanese delegation isn't in a position of weakness when it comes to the negotiations.
"We have rights, we are strong and we must get our rights from a position of strength."
Nasrallah said that these talks are necessary for Lebanon to be able to benefit from the natural resources from its waters.
Commenting on the US presidential elections, Nasrallah expressed joy at President Donald Trump's defeat.
"On a personal level, I'm very happy about Trump's humiliating downfall … particularly over his crime, the crime of the century, the killing of (Iranian Lt. Gen.) Qassem Soleimani and (Iraqi commander) Abu Mahdi al-Muhandis," he said.
Nasrallah said that the main element of American foreign policy will remain to guarantee Israel's interests under the next administration.
"I don't think (President-elect Joe) Biden will reverse Trump's position on Jerusalem al-Quds," he said, adding that he could adopt a different approach to the two-state solution.
Addressing recent military exercises by the Israeli army on the border recently, Nasrallah said that they were defensive in nature aimed at dealing with a Hezbollah attack against northern Israel during any future war.
Nasrallah said that his fighters were on high alert during these exercises last month should the Israelis strike under the cover of those maneuvers, and that their allies in Syria were also ready for a confrontation.