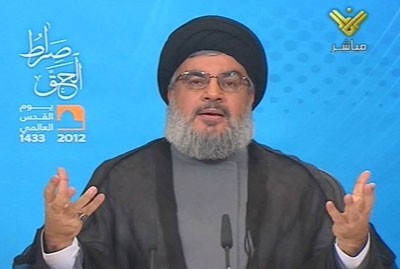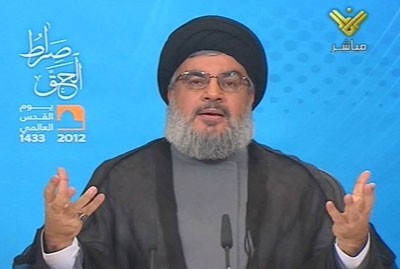 Secretary General of Hezbollah Hasan Nasrallah affirmed betting on the official Arab and Islamic system in light of what happened in the extraordinary Islamic summit in Mecca is a losing bet, saying that some Arab rulers are trying to destroy Syria so that Palestine cannot be strong.
In a speech marking International al-Quds Day on Friday, Nasrallah said that the scene in the region has become much different after the Syrian developments, noting that Turkish relations have become shaky with Syria and neighboring countries, while changes in some Arab countries are being exploited to stir the conflict in Syria, in addition to exploiting Iran's position to create animosity between it and Arab countries.
He said that if the recent Islamic summit had shouldered true historic responsibility and was genuinely worried over Palestine, al-Quds and the nation, then it should have invited Syria to discuss what is happening in it and engage in dialogue.
Nasrallah pointed out that the summit's closing statement, which barely mentioned Palestine, shows that if the Palestinian cause and the issue of al-Quds are eliminated during these circumstances, then there will no longer be an Islamic world to defend them.
He went on to affirm that the issues of al-Quds and Palestine are above anything else, and that, noting that Israel was concerned over changes in the region and afraid that a powerful regional axis may form to support al-Quds and Palestine.
Nasrallah said that recently, Israel escalated its aggression towards Lebanon, even talking about destroying it completely, warning that while Israel has massive destructive power and a brutal mentality, and while Lebanon cannot destroy Israel, it is capable of turning every Israeli's life into hell, adding that war with Lebanon would be very costly.
On Israel's increasing threats of attacking Iran under the pretext of its nuclear program, Nasrallah said that Israel knows that it's lying to the world in this regard and that it's problem with Iran is the fact that the latter is a strong country with prospects of developments, and that Iran is committed to the issues of Palestine, al-Quds and the Palestinian people.
He added that there's much debate in Israel on the issue of attacking Israel, as they are concerned over its cost and its feasibility.