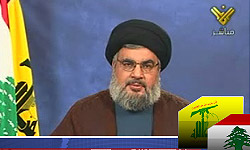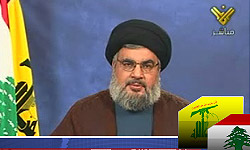 Secretary-General of the Lebanese Hezbollah Movement Seyed Hassan Nasrallah condemned Israeli assault on the Gaza Strip, and called on the Muslim states to cut ties and oil exports to the US to voice protest against Washington's blind support for Tel Aviv.
In a televised speech on Thursday, Nasrallah deplored the West for its support for the Tel Aviv, and stated that Muslim countries should sever all forms of relations with the US and to cut oil exports to that country in protest to Washington's support for the Israeli regime and its policies.
He added that the bloodshed in the Gaza Strip showed "the true face of the US and the West".
Nasrallah also called for an immediate end to the ongoing siege of the Gaza Strip.
The Hezbollah secretary general went on to say that Israel is taking revenge for its losses in Syria and other parts of the Middle-East by attacking the coastal enclave.
He called on the Arab League and the Organization of Islamic Cooperation (OIC) to explore all available means in order to pressure Washington and Tel Aviv to stop the recent Israeli aggression against Gazans.
At least 21 people have been killed and over 160 others injured in the new wave of attacks on the costal sliver, which started on Wednesday.
On Friday, Israeli forces launched more attacks on the Gaza Strip despite earlier pledge to halt strikes during the visit to Gaza by Egyptian Prime Minister Hisham Qandil.
Qandil arrived in Gaza this morning amid Israel's ongoing airstrikes on the besieged territory in order to express Egypt's solidarity with the Palestinians.
Israeli Prime Minister Benjamin Netanyahu had agreed to halt strikes during a visit.