Iran
Nation to create an epic this year, bury enemies' hopes: President Ahmadinejad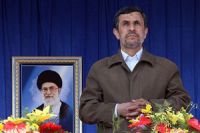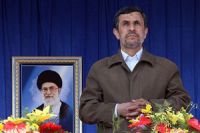 Iran's President Mahmoud Ahmadinejad said on Sunday that the Iranian nation is going to create an epic this year and bury the hopes of enemies.
According to IRNA, the President made the remarks in city of Tabriz, East Azarbaijan Province while addressing a large gathering of local people who gathered to welcome him in his fourth visit to the province which is also his 104th provincial visit across the country in his two presidential terms.
The President said the brave and heroic nation of Iran will disappoint its enemies by creating yet another epic in economic and political arenas.
He called on the nation to wash away all obstacles through a revolutionary move and said people have to change any adverse political and economic situations to their own benefit.
Noting that all efforts so far to discourage the Iranian nation have been failed, President Ahmadinejad said the people will manifest another magnificent turnout in the upcoming presidential elections.
President Ahmadinejad arrived in Tabriz on Sunday morning on a two-day visit.
He is scheduled to hold public meetings, visit different cities and towns across the province, inspect construction and cultural projects, inaugurate a number of projects and hold sessions with provincial officials.