Europe
Nationwide banks sit-ins planned in UK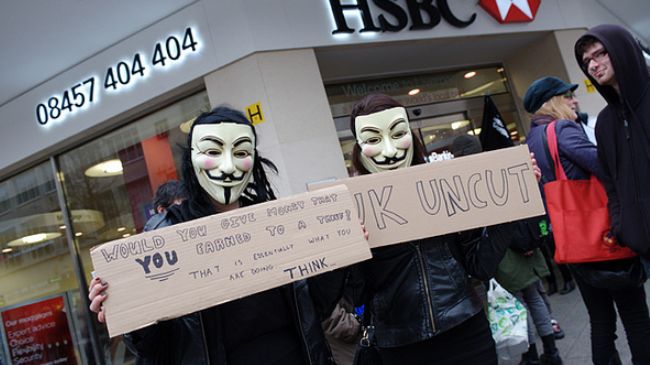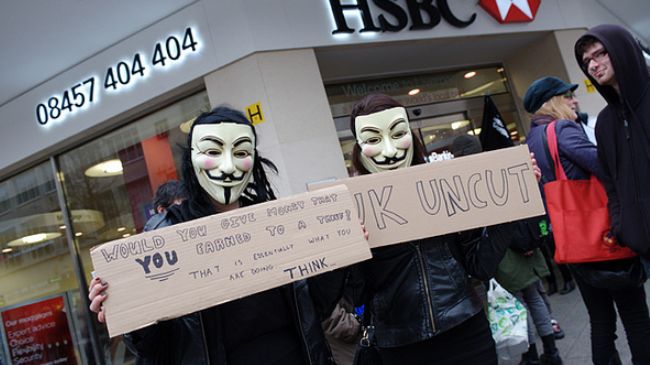 Anti-cuts campaigners will occupy branches of one of the leading British banks and set up fake food banks there to highlight the massive rich and poor divide and the huge hunger crisis in Britain.
The UK Uncut campaign group said they are targeting branches of HSBS multinational banking group to draw attentions to their role in the past years' banking crisis, their rescue by the government using taxpayer money and the government's continued tolerance of their tax-evasion.
A recent report by two leading British charities, Church Action Poverty and Oxfam, found that 500,000 people now rely on food banks to survive in Britain.
"There are now over half a million people in the UK going hungry, forced by our government to make the choice between paying the bills or eating, feeding themselves or feeding their children," UK Uncut said.
"That's why on Saturday 20th July UK Uncut will be setting up our own UK Uncut style food banks inside branches of HSBC – shutting down the UK's biggest, bonus-munching, crisis-causing, tax-dodging bank," it added.
The group said they want the government to stop "propping up" the people who caused the current crisis to put an end to the need for food banks.
"The banks got us into this mess, but this cabinet of millionaire men are forcing us to pay the price. And that's not all – banks are some of the biggest tax dodgers out there," UK Uncut said.
The group said the occupations will be staged nationwide.