Europe
NATO backs Ukraine against Russia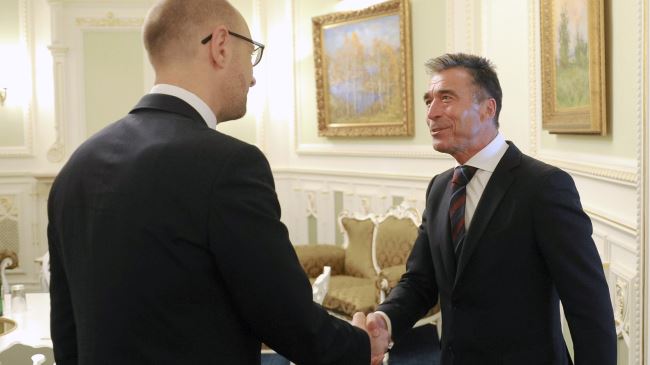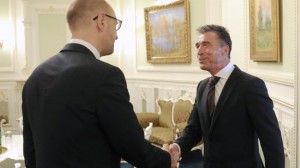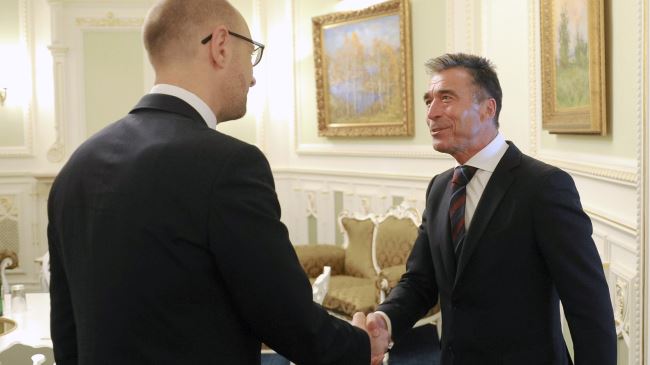 NATO has thrown its weight behind Ukraine in its standoff with Russia, calling on Moscow to "step back from the brink" of conflict by withdrawing its troops from the common border.
"I call on Russia to step back from the brink, step back from the border and not use peacekeeping as an excuse for war-making," NATO Secretary General Anders Fogh Rasmussen said during a visit to the Ukrainian capital, Kiev, on Thursday.
The remarks by the chief of the US-led military alliance came after NATO said Russia has positioned 20,000 troops near the Ukrainian frontier.
In Kiev, the NATO chief met with Ukrainian President Petro Poroshenko and Prime Minister Arseniy Yatsenyuk.
Rasmussen claimed that Russia has been supporting activists in the volatile city of Donetsk in eastern Ukraine, saying Moscow's support for the pro-Russians is growing in "scale and sophistication."
The Kiev government has stepped up its operations around Donetsk and Ukraine's second largest city of Lugansk.
Ukrainian government forces reportedly shelled a hospital in Donetsk on Thursday, killing at least one person and injuring two others.
The ongoing violence has also forced thousands of civilians to abandon their homes. Local authorities have warned of a looming humanitarian crisis as water, food and fuel supplies have dried up in the eastern region.
Ukraine's mainly Russian-speaking regions have witnessed deadly clashes between pro-Russia protesters and the Ukrainian army since the government in Kiev launched military operations in mid-April in a bid to crush the pro-Russia protests. The United Nations says about 1,400 people have been killed in the military operations.