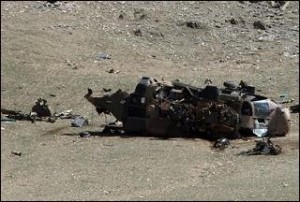 A NATO helicopter supporting Afghan and international troops in southern Afghanistan has been forced to make an emergency landing after being hit by the Taliban.
According to a NATO statement released on Monday, the crew of the MH-60 military helicopter was immediately picked up by additional aircrafts but the helicopter, itself, could not be recovered.
NATO said in the statement that the international forces destroyed the chopper where it lay after the crash in the Sangin district of Helmand province, a Taliban stronghold where British forces have suffered heavy casualties in the past.
Meanwhile, the Taliban have claimed responsibility for the attack, saying that 55 coalition troops were killed after two NATO helicopters were shot down.
"The Talban targeted two foreign forces' helicopters in Helmand province on Monday, killing at least 55 soldiers," Qari Yousuf Ahmadi, a Taliban spokesman, said.
There are more than 120,000 foreign troops in Afghanistan which is expected to climb to nearly 150 ,000 by the end of this year, as Washington is set to deploy more troops as part of its new strategy to quell the mounting violence with an expanded force.