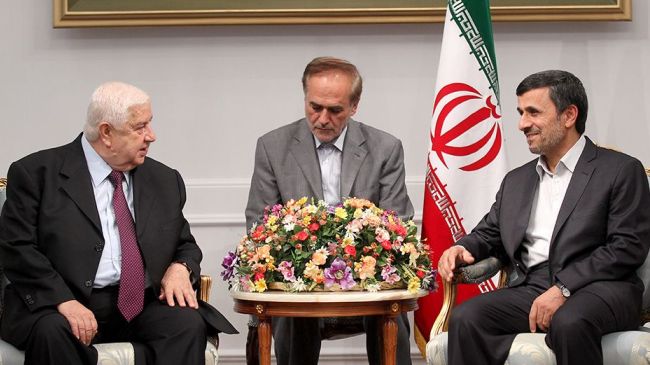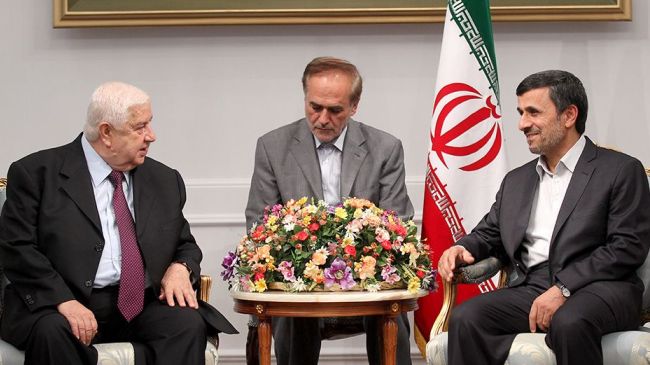 Iran's President Mahmoud Ahmadinejad says NATO seeks to strengthen its foothold in the region and save 'the Israeli regime.'
In a meeting with visiting Syrian Foreign Minister Walid Al-Muallem on Sunday, Ahmadinejad said the NATO forces and the states that disrespect freedom and justice cannot provide such rights for other nations.
"They seek to save the Zionist regime (Israel) and strengthen their domination," the Iranian president added.
Ahmadinejad said all nations seek justice, respect and freedom, adding that "this is the right of all nations and is very respectable, and must be realized in a proper way."
Ahmadinejad expressed hope that stability and security would be established in Syria through the prudence and foresight of the Syrian nation and government.
The Syrian foreign minister, for his part, conveyed the regards of his country's government and nation to the Islamic Republic and talked about the recent developments in Syria.
Al-Muallem arrived in Iran's capital, Tehran, on Sunday to hold talks with senior Iranian officials regarding the recent developments in Syria.
Syria has been the scene of unrest since March 2011. Because the presence of armed groups who are supported, financed and armed by Washington, Tel Aviv, Ankara, London, Paris, Berlin and certain Arab regimes.
The US has not objected to its allies aiding rebel groups, and is rather facilitating the arms flow on the Turkey-Syria border, according to a Washington Post report in May.
The CIA's ability to operate inside Syria was hampered severely by the decision to close the US embassy in Damascus earlier this year, officials said.
The US administration is exploring ways to expand non-lethal support to Syrian opposition groups, officials told the Washington Post.