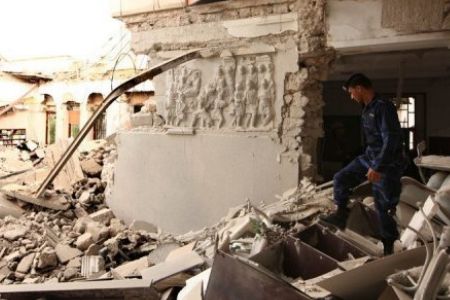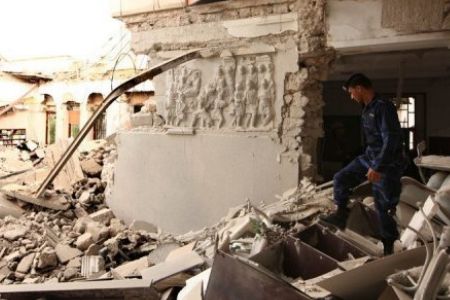 NATO has launched a series of missile strikes against the Libyan capital Tripoli, wounding at least four children, two of them seriously.
The overnight NATO raid has left four children wounded, two of them hospitalized in intensive care, Reuters quoted Libyan officials as saying.
According to witnesses, NATO jets carried out a number of bomb attacks on different targets in Tripoli in the early hours of Tuesday.
One of the strikes has completely destroyed a government building housing the high commission for children in Tripoli's Dahmani neighborhood.
The old colonial building had already been damaged once by a NATO strike on April 30.
Other strikes have wrecked a hospital in Dahmani and toppled a nearby telecommunications tower used to provide mobile phone services, Libyan officials told journalists.
Witnesses say they have also seen plumes of smoke rising near the offices of Libyan television and the state news agency JANA.
NATO warplanes have recently stepped up attacks on targets in Libyan capital, Tripoli.
The Western alliance force claims that it is targeting forces loyal to Libyan ruler Muammar Gaddafi, who pose threats to civilians.
But the Libyan government denies the allegation, saying that NATO is targeting civilians and so far many have been killed and injured as the result of the attacks.
The latest airstrikes come a day after NATO Secretary General Anders Fogh Rasmussen said time was running out for Gaddafi and his regime.
"The game is over for Gaddafi. He should realize sooner rather than later that there's no future for him," Rasmussen said Monday.
The NATO chief also denied that the situation in Libya had devolved into a "stalemate" insisting that NATO was "making progress" in the chaotic North African country.
He however stressed that only a political solution could end the conflict in Libya.
Critics accuse the West of hypocrisy over the offensive in Libya, along with its silence towards the brutal crackdowns on similar anti-regime movements elsewhere in the Arab world, such as in Bahrain, Saudi Arabia and Yemen.