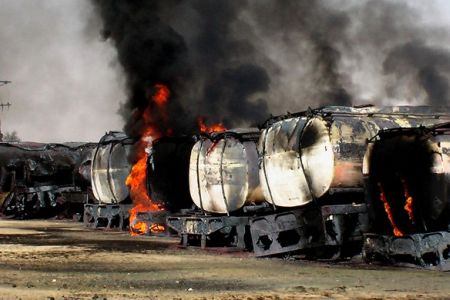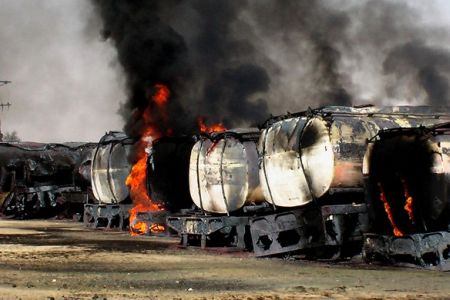 A powerful bomb explosion in Pakistan's violent northwest has targeted several NATO tankers carrying fuel for the US-led foreign troops in neighboring Afghanistan.
The blast took place late Monday at a terminal near the Torkham border crossing in Khyber tribal district.
Local officials say at least 25 NATO oil tankers have been torched in the incident.
"Around 25 tankers were parked at the terminal. Militants planted a bomb in one of the tankers which exploded triggering a fire," AFP quoted local administration official Iqbal Khattak as saying.
Trucks carrying supplies for foreign forces in Afghanistan frequently come under attack in Pakistan.
Militants have destroyed hundreds of NATO vehicles in northwestern and southwestern Pakistan over the past two years.
They have stepped up efforts to disrupt the route and avenge non-UN-sanctioned US air strikes on Pakistani soil.
However, the attacks on NATO supply convoys did not stop the US military from carrying out its unauthorized drone attacks inside Pakistan's territory.
Washington claims the air strikes target militants. However, figures show the attacks have led to the death to hundreds of civilians in Pakistan since 2008.
According to Pakistani source for every militant such attacks target at least 50 civilians die.