China
Iran
Middle East
North America
Navy Commander Reveals US Attempts to Disrupt Iran, China, Russia's Joint Drills
Iranian Navy Commander Rear Admiral Hossein Khanzadi said that the US and its allies tried to disturb the recent naval wargames jointly staged by Iran, Russia and China in the Indian Ocean and the Sea of Oman.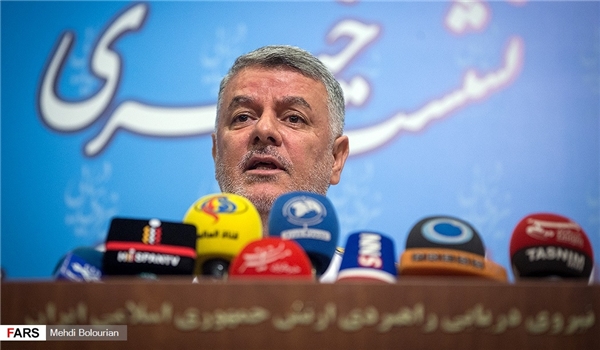 "When the joint naval drills of Iran, Russia and China were underway, the Americans and their allies held an extraordinary meeting whose aim was disturbing our wargames with our two allies, but we foiled their plot by deception operations," Rear Admiral Khanzadi said in an interview with the state radio on Wednesday.
He added that the only thing that the Americans could do during the joint drills was standing away from the wargames zone and monitoring the drills with spy drones.
Rear Admiral Khanzadi also said that similar drills will be held next year too.
Iran, Russia and China held the 3-day joint "Marine Security Belt" drills in the Indian Ocean and the Sea of Oman area this weekend.
The event was the first such cooperation with Iran since the 1979 victory of Iran's Islamic Revolution.
It came amid US efforts to woo countries into a maritime coalition for patrols in the Persian Gulf, which have received lukewarm welcome from its allies.
The General Staff of the Iranian Armed Forces announced that the recent joint naval drills of Tehran, Moscow and Beijing in the Sea of Oman and the Indian Ocean was meant to reassure that regional allies are capable of safeguarding security in the region and to warn foreigners, particularly Americans, that they are adding nothing but insecurity to the region.
Speaking to reporters on the sidelines of the drills on Sunday, Head of Naval Operations Department at the General Staff of the Iranian Armed Forces Brigadier General Ebrahim Dehqani said that Iran and its allies can maintain regional security without any need to foreign forces.
The drills kicked off on Friday and covered 17,000 square kilometers consisting of various tactical exercises, such as target practice and rescuing ships from assaults and fires.
"Our friends will be assured (through these drills) that the maritime security can be established by the Islamic Republic of Iran and its allies and there is no need to the presence of foreign forces, particularly Americans, in the region," the commander said.
"The presence of Americans only creates insecurity in the region."
American forces, the commander added, have left the Persian Gulf and the Sea of Oman for the northern part of the Indian ocean, "which proves that they are well aware of their incapability in ensuring their own security."
The Iranian commander said the message of the drills to enemies is that their slightest mistake will face a crushing response from the Armed Forces of Iran, adding, "Joint drills will be certainly held in coming years and we will even hold similar drills with other countries in the region."