Iran
Navy to Stage Large-Scale Drills in Iran's Southern Waters on Friday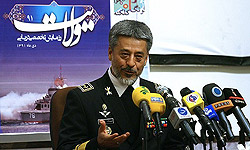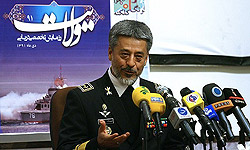 Iranian Navy Commander Rear Admiral Habibollah Sayyari announced on Tuesday that his forces are due to start a series of wargames in the country's Southern waters on Friday.
Speaking at a press conference here in Tehran today, Sayyari said that the wargames, codenamed 'The Great Naval Wargames of Velayat 91' will last 6 days and will cover a large area.
He added that the wargames will cover around one million square kilometers from the Strait of Hormuz to the waters up to the 18-degree latitude.
In addition to testing its defense and missile systems, combat vessels and submarines, the Iranian Navy will exercise naval combat, patrol and reconnaissance missions as well as confrontation against enemy threats, said the Navy commander.
Last month, Sayyari had said that the naval drills would even be more massive and cover a vaster area than the previous exercises.
Late in December 2011, the Iranian Army's Navy staged 10-day wargames, dubbed as Velayat 90, to test its latest achievements in the fields of missile technology and sub-surface vessels.
The wargames were conducted in an area stretching from the East of the Strait of Hormuz in the Persian Gulf to the Gulf of Aden.
Navy conducted test-firing long-range missiles from coasts and navy vessels.
Different types of short and long-range coast-to-sea, surface-to-surface, surface-to-air missiles were tested by Iranian vessels. Iranian submarines also launched smart torpedoes.