Asia-Pacific
Indonesia
Myanmar
Nearly 300 Rohingya refugees land in Indonesia's Aceh after 6 months at sea
Almost 300 Rohingya refugees believed to have been at sea for six months landed in Indonesia's Aceh province in the early hours of Monday, Indonesian authorities have confirmed.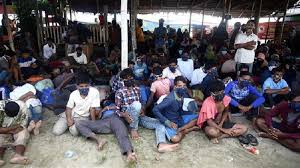 Acehnese police said a wooden boat carrying the Rohingya was spotted by local fishermen several kilometers off the coast of Lhokseumawe, before landing at Ujung Blang Beach just after midnight. Among them were 181 women and 14 children, Iptu Irwansya, a local police chief, said.
Junaidi Yahya, head of the Red Cross in Lhokseumawe, said the group was being held in a temporary location.
Monday's boat follows the arrival of another vessel in late June when local fishermen in Aceh rescued more than 100 refugees, including 49 women and 30 children, after Indonesian authorities had initially threatened to push them back.
Fleeing persecution in Myanmar and already-crowded refugee camps in Bangladesh, the Rohingya have for years attempted to seek refuge, mostly by boat, in other Southeast Asian nations.
(Source: Reuters)