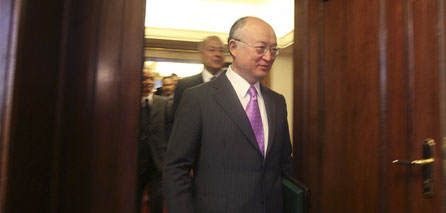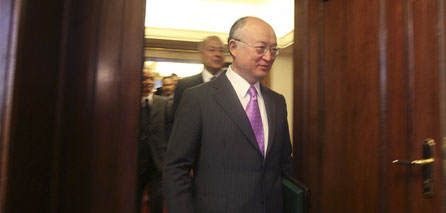 Netanyahu spends the time he was supposed to meet with the visiting head of the United Nations nuclear watchdog, on vacation.
The White House has, meanwhile, said that US President Barack Obama has vowed to shield "Israel" from being "singled out" at neither the September gathering nor an Egyptian-proposed 2012 regional conference on a nuclear-free Middle East.
Netanyahu's office cancelled the meeting, saying "he would speak on the telephone to the head of the International Atomic Energy Agency [IAEA] Yukiya Amano later this week," Israeli newspaper Ha'aretz reported on Tuesday.
The IAEA director general is on his first visit to the Zionist entity, having asked to hold talks with the premier months ago.
Lieberman, Ayalon, Barak and Uzi Arad would likewise not be meeting with Amano.
The prime minister's bureau claimed Netanyahu had to take the vacation in advance to find time for the agency's upcoming gathering in the next month.
The meeting is expected to focus on the issue of Israeli nuclear weapons amid mounting international pressure on the regime to place its controversial nuclear facilities under the agency's supervision.
Former US President Jimmy Carter has said "Israel" has between 200 and 300 nuclear warheads, referring to Tel Aviv as the sole possessor of nuclear arms in the Middle East.
The Zionist entity has, however, avoided punitive measures so far owning to its oldest and most steadfast ally the United States. The US supports Israel's policy of "nuclear ambiguity."