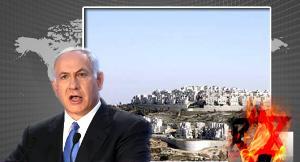 Israel's Prime Minister Benjamin Netanyahu has called a report by the UN Human Rights Council's Gaza war commission a real threat to Israel.
An independent fact-finding mission led by former South African UN prosecutor Richard Goldstone investigated violations of human rights and international laws during Israel's January offensive in Gaza.
The committee's 575-page report mostly highlighted Israeli atrocities against civilians in the beleaguered Gaza Strip and documented deliberate targeting of centers known to be holding people. It also filed complaints that Israeli soldiers killed unarmed people on the run, saying some of the victims were even waving white flags.
The report was approved in October by the UN Human Rights Council and endorsed by a majority of 114 countries while 18 opposed and 44 abstained.
"Goldstone is a codeword for an attempt to delegitimize Israel's right to self-defense," Netanyahu said in his Wednesday address to members of the Israeli parliament, Knesset.
"The international battle against Israel began in UN Durban Conference I, and continued in the 2005 ICJ (International Court of Justice) advisory opinion against the security fence and in the Durban Conference II, as well as the Goldstone report. This is a comprehensive attack, not on a specific Israeli government but on the state of Israel," he lamented.
Netanyahu reiterated his administration's attachment to Tel Aviv's long-held position regarding Palestine, urging Palestinians to recognize Israel as a Jewish state and thus "give up the demand for the return of Palestinian refugees," and agree to the demilitarization of a future Palestinian state.
The hawkish Israeli premier, whose government had threatened to block Middle East peace talks if the Goldstone report found its way into the UN Security Council, accused the Palestinians of hindering negotiations with the aim of blaming Israel over "false accusations" and causing divisions among Israel's public and politicians.
According to the UN report, more than 1,400 Palestinians — at least 500 women and children among them — were killed in the Gaza Strip during 22 days of relentless sea, land and air strikes by the Israeli army.