Turkey
New clashes erupt at Syria-Turkey border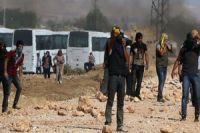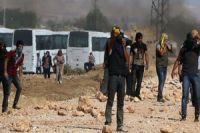 Clashes have once again erupted in Turkey's southern region of Morshid-pinar near Syria's border where a massive influx of Syrian Kurds has been fleeing the advancing Takfiri ISIL terrorists.
According to the reports, Turkish security forces used water cannons and tear gas to disperse the Syrian Kurds who have been waiting at the border crossing over the past few days.
It was not the first time that violence has broken out in the Morshid-pinar region. On Sunday, Turkish security forces clashed with Kurds protesting in solidarity with the refugees.
Syrian Kurds, fleeing clashes between ISIL and Kurdish fighters in the northern city of Kobani in Aleppo Province and the surrounding areas, have been massing along the Turkish border since September 18.
Following the incident, Turkish authorities decided to temporarily shut down the border, forcing Kurdish refugees to be stranded on the Syrian side of the volatile frontier.
The ISIL has captured nearly 60 Kurdish villages around the city of Kobani in Aleppo countryside, located in northwestern Syria.