Saudi Arabia
New Details of Saudi-Zionist Secret and Public Ties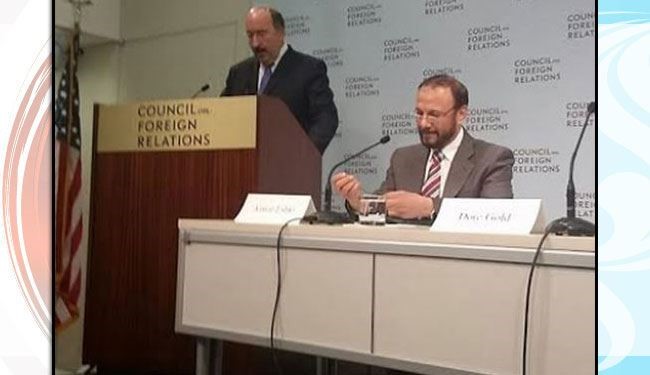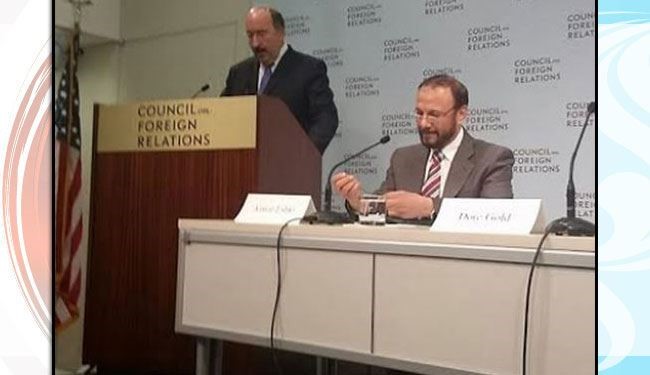 Expected next Zionists foreign minister have a hot meeting by representative of Saudi Arabia at Washington.
An extremely unusual public meeting of high-ranking Israeli and Saudi officials took place in Washington on Thursday, when the incoming director-general of the Israeli Foreign Ministry shared a stage — and shook hands — with a Saudi general who is a former top adviser to the Saudi government, Time of Israel reports.
It is not secret that the newly appointed director of Israel's foreign ministry, Dr. Dore Gold, met Thursday in Washington with high-level Saudi representatives. On the agenda: the impending agreement between world powers and Iran about its nuclear program, I24news reports.
Anvar Ashki, 72, has assumed various posts in Saudi Arabia and is currently the director of the Strategic Research Center in Jeddah. He is closely connected to the royal family. He is a proponent of the 2002 Saudi Arab Peace Initiative. That proposal would see normalization of ties between Israel and Arab League members.
In their back-to-back addresses to the Washington-based Council on Foreign Relations think tank, Dore Gold and Anwar Eshki both espoused Israeli-Saudi peace and identified Iran as the chief threat to regional stability.
Eshki spoke at length of Iran's hostile and aggressive actions in the region and signaled that peace with Israel, based on the Saudi-led Arab Peace Initiative, was a top priority. He also spoke of the need for a joint Arab military force to increase regional stability.
This is when Israel besieged Gaza and its action to expand occupied settlement are faced with international opposition and Saudi Arabia entered in 3rd month of continuously attacks to Yemen.
Gold, the current head of the Jerusalem Center for Public Affairs think tank, is expected to be confirmed as the Foreign Ministry chief in the coming days. He too spoke of the challenge posed to the Middle East by Iran, and warned of a weak nuclear accord with Tehran which would leave the Iran as a nuclear threshold state.
Bloomberg News reported that the two side, longtime foes with no diplomatic relations( not in public but very serious in secret), have held five clandestine meetings over the past 17 months on the threat posed by Iran. Long-rumored back-channel talks between Jerusalem and Riyadh have never been officially confirmed.
Shimon Shapira, described by Bloomberg as an expert on Lebanese Hezbollah who took part in the meetings, said: "We discovered we have the same problems and same challenges and some of the same answers."
While Gold and Eshki expressed hope that 2 sides could find common ground in the face of regional challenges.