Iran
Iraq
Middle East
North America
Qasem Suleimani
New IRGC Quds Force chief: Iran dealt US a first slap by striking American bases in Iraq
The newly-appointed head of the Islamic Revolution Guards Corps (IRGC)'s Quds Force says Iran dealt the US "a first slap" by striking two American bases in Iraq in retaliation for the assassination of his predecessor, Lieutenant General Qassem Soleimani.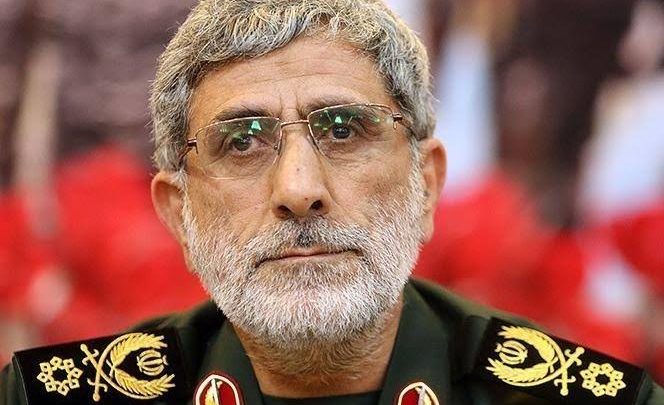 "With God's blessing, the first slap was decisively delivered to the world's largest capitalist power," Brigadier General Esmail Qaani said in a message addressed to Leader of the Islamic Revolution Ayatollah Seyyed Ali Khamenei on Thursday.
He also expressed hope that the ballistic missile attacks on American bases in Iraq would serve as "a complement" to the Iraqi parliament's significant decision to expel foreign troops as well as the regional nations' will to put an end to the "malevolent and filthy presence of the US and global arrogance in the region."
In the early hours of Wednesday, Iran launched tens of missiles at two bases housing US troops in Iraq's western Anbar Province and Kurdistan regional capital, Erbil, in revenge for the assassination of General Soleimani and his companions.
Qaani was echoing comments by Ayatollah Khamenei, who described the air raid as "a slap" during a speech on Wednesday. The Leader added that "the talk of revenge and such debates are a different issue. For now, a slap was delivered on their face last night."
Elsewhere in his remarks, Qaani vowed to continue on the "luminous" path pursued by martyred General Soleimani "with might."
He also stressed that the mass rallies and events held by different nations in commemoration of General Soleimani were "a vote of approval for resistance in the face of the global arrogance."
The revenge operation on Wednesday saw Iran's Armed Forces fire a barrage of missiles at the two US bases, with all of the projectiles reaching the intended targets.
IRGC: No missiles intercepted in attack on US bases, casualties reportedIRGC has targeted two US bases in Iraq, in an operation meant to avenge the assassination of its senior commander Lieutenant General Qassem Soleimani.
There have been reports of casualties and extensive material damage at Ain al-Assad.
The US has said no Americans have been killed and that the base has suffered "minor damage" in the aftermath of the raids, but it has reportedly been refusing to let Iraqi forces and media into the site.
IRGC spokesman Second Brigadier General Ramezan Sharif said Aerospace Division Commander Brigadier General Amir Ali Hajizadeh is scheduled to provide further details of Iran's missile strike in response to repeated calls by media workers and amid a propaganda campaign launched by the US, Israel and Saudi Arabia to downplay Iran's operation.