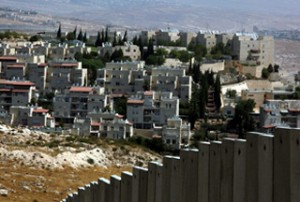 The Palestinian Authority denounces Israel's approval of plans to build hundreds of new housing units in occupied East Jerusalem Al-Quds, warning the move could derail peace talks.
During US Vice President Joe Biden's visit to Israel on Tuesday, Tel Aviv took the international community with yet another surprise by declaring plans to build 1,600 more apartments for Israeli settlers in the West Bank, a day after boasting the construction of 112 housing units in the Betar Illit settlement in Bethlehem.
A spokesman for acting Palestinian Authority Chief Mahmoud Abbas said the "dangerous" plan — which also came a day after US envoy George Mitchell arrived in the Middle East — had the potential to "derail negotiations and ensure the failure of US efforts before they begin."
"It is now apparent that the Israeli government does not want negotiations, nor does it want peace," he said, calling on the US to "respond to this provocation with effective measures," Nabil Abu Rudeineh said on Tuesday.
He said moving forward would "no longer be tolerable" if Washington adopted a policy of silence toward the provocations. "Without real and effective American pressure, adopting a position that would make Israel stop these actions, they will destroy the peace process."
The continued Israeli construction on Palestinian land in the occupied West Bank comes amid repeated condemnations from the United Nations and other international bodies, even contradicting the Tel Aviv regime's own 10-month moratorium declared last November.
The move also drew strong criticism from Biden, who said Israel was "undermining the trust we need right now and runs counter to the constructive discussions that I've had here in Israel."
As the US-sponsored "proximity talks" are expected to begin between the Palestinians and Israel, top Palestinian Authority negotiator Saeb Erekat expressed reservations on the recently announced indirect negotiations.
Erekat urged answers to some inquiries he submitted to US Middle East envoy George Mitchell about the Israeli government's approval of more residential units in settlements and the demolition of Palestinian homes before any indirect talks could begin.
He called for Israel's return to borders before the occupation of Palestinian territories in 1967 and demanded Tel Aviv's commitment to negotiations by halting settlement activities, stopping the daily detentions of Palestinians, and freezing construction near the West Bank separation wall.
"If these activities continue, Israel will be foiling the US proposal and international efforts," Erekat insisted.