Syria
New map of Syrian War – December update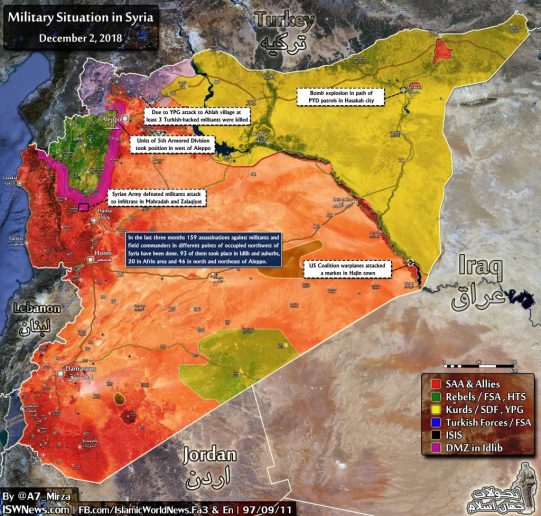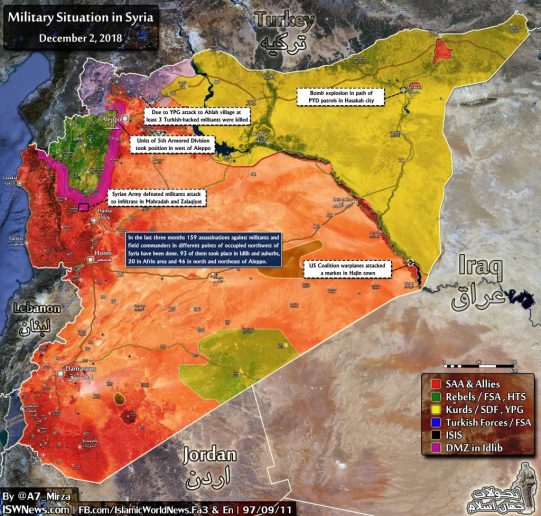 Over the last month, the ongoing Syrian War has seen little changes on the map, despite the fierce clashes that are taking place at several fronts across the country.
Among the most significant changes to the map above took place in southern Syria in November, when the Syrian Arab Army (SAA) and their allies liberated the entire Al-Safa volcanic region from the Daesh terrorist organization.
Following the liberation of the Al-Safa region, the Syrian Arab Army began redeploying their troops to the Idlib, Latakia, and Hama provinces.
The reason for these recent redeployments is due to the crumbling Sochi agreement that has been violated repeatedly by all parties involved.
Meanwhile, in southeast Syria, the U.S.-backed Syrian Democratic Forces (SDF) have retaken the initiative in the Deir Ezzor Governorate, as their troops push into the Islamic State's stronghold of Hajin.
The SDF may have their hands full in the near future, however, as the Turkish-backed rebels from the Free Syrian Army (FSA) shift their attention to the territories controlled by the former and their allies from the Kurdish-led People's Protection Units.
In particular, the Turkish-backed rebels have been amassing troops around the northeastern countryside of Aleppo and Raqqa-Turkey border.
The Turkish regime wants these areas cleared of the SDF and YPG forces because they view the latter groups as terrorist organizations.