North America
Middle East
Palestine
New Yorkers mark Nakba Day, rage against Palestinian journalist's murder
Hundreds rally in New York to mark the anniversary of the initiation of the Israeli regime's occupation and aggression, and also to condemn recent murder of a renowned Palestinian journalist.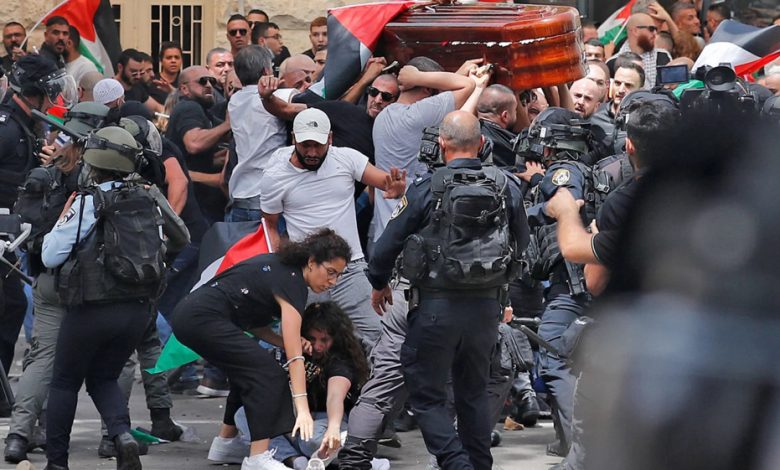 The participants shouted "free Palestine" and "Israel you can't hide…you're committing genocide," as they were marking the Nakba (Catastrophe) Day. Back in 1948, the occasion saw the Israeli regime claiming existence following a heavily-Western-backed war against regional territories.
They also chanted "justice for Shereen," remembering Shereen Abu Akleh, who was brutally murdered while covering an Israeli military raid on the Jenin refugee camp in the northern part of the occupied West Bank.
The long-time Al Jazeera Arabic journalist, who rose to fame while covering the second Palestinian Intifada (Uprising) between 2000 and 2005, was accompanying a group of local journalists when she was targeted.
Several independent groups have launched their own probes into the atrocity, with one open-source research team saying its initial findings had lent support to accounts provided by Palestinian witnesses, who said Abu Akleh was killed by Israeli fire, the Associated Press reported.
Bellingcat, a Dutch-based international consortium of researchers, published an analysis of video and audio evidence gathered on social media. The material came from both Palestinian and Israeli military sources, and the analysis looked at such factors as time stamps, the locations of the videos, shadows, and a forensic audio analysis of gunshots.
The group found that while gunmen and Israeli forces were both present in the area, the evidence supported witness accounts that Israeli fire killed Abu Akleh.
"Based on what we were able to review," the Israeli troops "were in the closest position and had the clearest line of sight to Abu Akleh," said Giancarlo Fiorella, the lead researcher of the analysis.
Commenting on Shereen's murder, one male protester, who was partaking in the New York rally, said, "To kill a Palestinian [for them] is like shooting a bird."
"It's a shame, and this country (the US) doesn't do nothing," he added, referring to Washington's unfaltering support for Tel Aviv, and its constant protection of the occupying regime against international backlash.
"I, myself, am Jewish and I feel like it is a very strong and deep duty to criticize the Israeli government, and stand up for the oppressed Palestinians," said another.
A female demonstrator said, "Shereen was murdered in cold blood by a sniper ['s shot] to her head, right below the helmet that she was wearing, while she was wearing a 'press vest' because she has always covered the truth about what's happening in Palestine, and Israel wanted to silence her."
"Freedom of speech is killed. Shereen Abu Akleh…we knew her for tens of years. She was a very good reporter. And she was not biased. She was just reflecting what's happening in the occupied land. And she was mercilessly murdered," noted another.