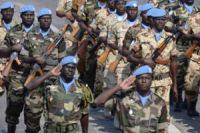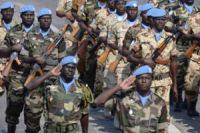 Niger's President Mahamadou Issoufou has pledged to keep its peacekeepers in neighboring Mali a day after nine of them were murdered by armed gunmen.
According to Press TV, Issoufou said on Saturday "Niger will continue to fight terrorism in Mali."
The peacekeepers, part of the United Nations Multidimensional Integrated Stabilization Mission in Mali (MINUSMA), were killed on Friday when armed attackers on motorbikes ambushed their convoy on the road between Ansongo and Menaka in northern Mali.
The government of Niger has announced three days of mourning, beginning from Sunday.
The UN and the African Union's mission in Mali condemned the killing.
A Nigerien officer from MINUSMA said the attackers belonged to the Movement for Oneness and Jihad in West Africa (MUJAO), an al-Qaeda-linked terrorist group that has been responsible for numerous attacks in northern Mali in recent years.