Iran
No border guard taken hostage: Iranian official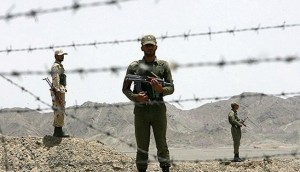 Iran's Deputy Interior Minister Ali Abdollahi says no border guards were taken hostage during an ambush by terrorists that killed and wounded a number of Iranian forces in the southeast of the country.
On Sunday, Abdollahi rejected reports that three Iranian border guards had been taken hostage during the shooting in the border city of Saravan in the country's southeastern province of Sistan-Baluchestan.
Fourteen Iranian border guards were killed and three were wounded in a terrorist attack in Saravan on Friday. No group has yet claimed responsibility for the shooting.
The Iranian official added that Iran's Supreme National Security Council convened earlier on Sunday with the presence of the Interior Minister Abdolreza Rahmani-Fazli to pursue the issue.
Iran's President Hassan Rouhani has called for an investigation into the shooting incident, tasking the Foreign Ministry with taking necessary measures to implement the border security agreement with Pakistan.
Iran's Foreign Ministry on Saturday summoned Pakistan's chargé d'affaires in Tehran Sohail Siddiqui to voice the Islamic Republic's protest over the deadly attack.
In the meeting, the Foreign Ministry strongly demanded that Islamabad act in accordance with the security pact and extradition treaty signed between the two countries and apprehend the ringleaders as well as members of the terrorist group, who fled to Pakistan after the deadly incident.
In February, Iran and Pakistan signed a security agreement, under which both countries are required to cooperate in preventing and combating organized crime, fighting terrorism and countering the activities that pose a threat to the national security of either country.