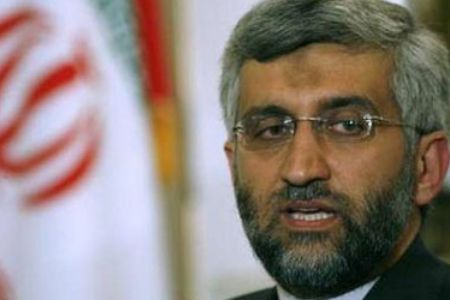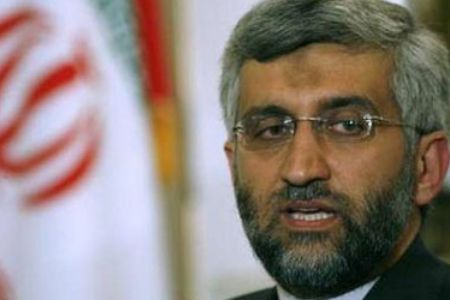 Secretary of Iran's Supreme National Security Council Saeed Jalili says a date has not yet been set for nuclear talks between Tehran and the P5+1 group.
Jalili told Press TV on Tuesday, "What we have always announced is that we welcome talks… In the letter I wrote to Ms. Ashton, I explained the atmosphere, the bases, and the topics of the talks."
He had said earlier that "dialogue on cooperation with the Islamic Republic of Iran is the only option" for the P5+1 group — Britain, China, France, Russia, the United States, and Germany.
Deputy head of Iran's Supreme National Security Council, Abolfazl Zohrevand, said that a letter on the resumption of the talks has been received from the head of the EU foreign policy chief Catherine Ashton, "but the letter only addresses issues such as where, when and how long the talks should be and does not deal with more important issues such as the framework, aim and direction of the talks."
Earlier on Tuesday, Foreign Ministry Spokesman Ramin Mehmanparast said Iran welcomes any purposeful fair talks that respect the rights of nations.
He said that negotiations could yield "fruitful" results if they were held in an atmosphere of "cooperation" rather than confrontation.
On Thursday, the EU foreign policy chief put forth the proposal to hold a three-day round of talks between Iran and the P5+1 group over Tehran's nuclear program in mid-November.
On Friday, Iranian Foreign Minister Manouchehr Mottaki welcomed the new offer for the resumption of talks over Iran's nuclear energy program.
Dialogue between Iran and the P5+1 group, which Ashton represents, has been stalled since October 1, 2009, when the two sides met in Geneva.
In a letter to Ashton dated July 6, Jalili said that while Iran is still ready to resume talks with the group of six world powers, a number of conditions would first have to be met.
"Once the direction of the negotiations becomes clear, Iran will be ready for talks on constructive international cooperation to remove common concerns," wrote Jalili in response to a letter by Ashton in mid-June.
Iranian President Mahmoud Ahmadinejad on Sunday re-emphasized the importance of observing the Islamic Republic's previous preconditions for holding talks with the P5+1.
He said that the six major powers should determine whether they are committed to IAEA regulations and announce whether their objectives of talks are cooperation with Iran or enmity towards the Islamic Republic.
President Ahmadinejad also urged the P5+1 countries to announce their views about Israel's nuclear bombs.