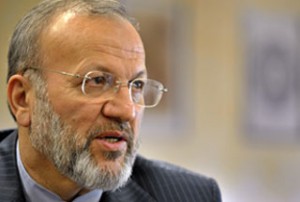 Iran's Foreign Minister Manouchehr Mottaki says there would be no "direct Iran-US talks" during the upcoming talks between Iran and the major world powers.
Iran and the five permanent members of the UN Security Council–the US, Britain, Russia, France and China–plus Germany (P5+1) will hold the latest round of talks on Tehran's nuclear program on October 1.
The Iranian top diplomat noted that the venue of the talks had not been determined yet.
EU Foreign Policy Chief Javier Solana had earlier said that the talks will probably be held in Turkey.
Asked if there would be any Iran-US talks during the upcoming meeting, Mottaki said, "the talks will be between Iran and P5+1, not directly between Iran and the US."
The US State Department announced on Monday that it will send its third-ranking diplomat, Under Secretary of State for Political Affairs William Burns, to the upcoming talks on Iran's nuclear program.