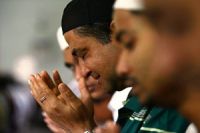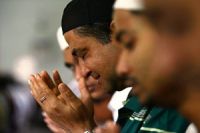 The Muslim community in Burma has cancelled plans to hold festivities to mark the advent of Eid Al-Adha, one of two major festivals in Islamic calendar, in solidarity with ethnic Muslims, known as Rohingyas.
"Our brothers and sisters are being murdered and their villages are being burned down in Arakan State," MyoLatt, a senior leader of the Burmese Muslim Association, told The Irrawaddy newspaper on Wednesday, October 24.
"It is for this reason that we will not celebrate `Eid."
`Eid Al-Adha, or "Feast of Sacrifice", is one of the most important Islamic celebrations, together with `Eid Al-Fitr.
Festivities and merriment then start with visits to the homes of friends and relatives.
But Burmese Muslims decided to scrap `Eid celebrations in solidarity with Rohingya Muslims, who are facing attacks in the western state of Rakhine.
MyoLatt said Burmese Muslims often gather for a grand dinner in Rangoon to mark `Eid Al-Adha, which will start on Friday, October 26.
But they decided to cancel this year's celebrations for the first time in living memory over the ongoing persecution of Rohingya Muslims.
Described by the UN as one of the world's most persecuted minorities, Rohingya Muslims are facing a catalogue of discrimination in their homeland.