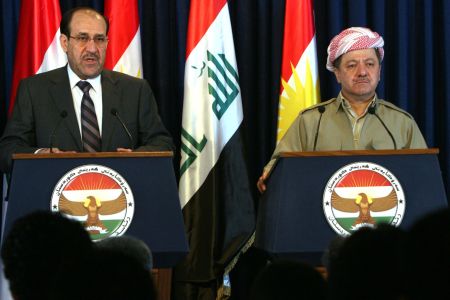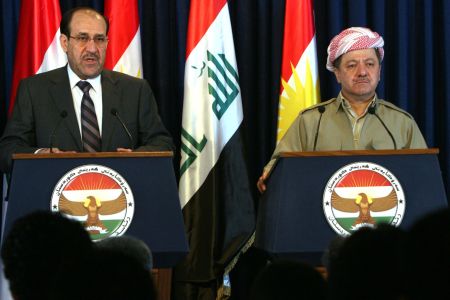 The leader of Iraq's semi-autonomous Kurdistan region says there is no red line for Prime Minister Nouri al-Maliki to run a second term in office.
Meeting with Maliki in the regional capital Arbil on Sunday, Massoud Barzani described the prime minister as an ally, noting that his Kurdistan Alliance would not object if Maliki chose to stay in office for a second term.
"Maliki's visit to Kurdistan is not aimed at the formation of a new alliance, but is to reinforce an old alliance and a start to put an end to all the problems Iraq is suffering from," he noted.
Speaking about his visit, Maliki said his State of Law coalition had a similar approach toward all electoral rivals in order to reach a roadmap
The Iraqi prime minister stressed that a US withdrawal would take place according to the planned timetable and will not be influenced by the delay in the formation of a new government in Iraq.
Questioned about a second term in office, Maliki said, "the State of Law slate has its own candidate, the same way as other blocs have their own candidates."
Iraq has been in a state of political uncertainty following the inconclusive March 7 elections which did not give any single slate the required majority needed for an outright victory.
Former Premier Iyad Allawi's al-Iraqiya bloc ended up in the first place with 91 seats out of the parliament's 325 seats, followed by Maliki's State of Law with 89. The Iraqi National Alliance secured 70 seats, and the Iraqi Kurdish Alliance garnered 43 seats.
The rival blocs have not yet managed to agree on a power-sharing deal and the major posts of president, prime minister and parliament speaker are still to be decided on.