Asia-Pacific
Korea
North Korea considering pulling out of talks unless US takes steps
A senior North Korean official says Pyongyang is considering suspending talks on denuclearization with the United States and resuming its nuclear and missile tests.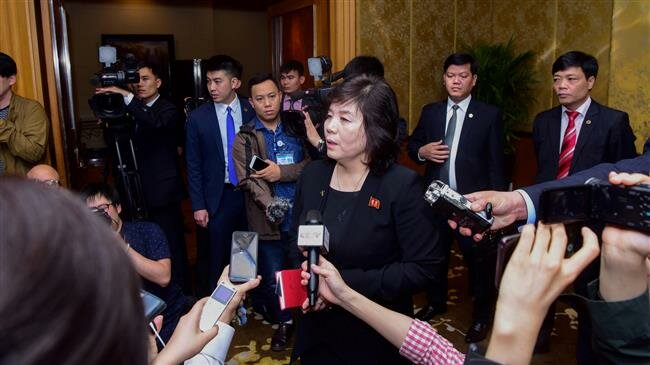 The North's Vice Foreign Minister Choe Son Hui said on Friday that leader Kim Jong-un is set to make an official announcement about his decision soon.
Choe said on their way back to Pyongyang from talks with US President Donald Trump in Hanoi last month, Kim told her that "for what reason do we have to make this train trip again?'"
Trump walked away from the talks, claiming that Kim had insisted on the removal of all sanctions but Pyongyang rejected that account, stressing that it had only wanted a partial lifting of the penalties.
"I want to make it clear that the gangster-like stand of the US will eventually put the situation in danger," Choe told foreign diplomats and journalists in Pyongyang.
North Korea, she said, is deeply disappointed by the collapse of the talks between Trump and Kim.
"We have no intention to yield to the US demands in any form, nor are we willing to engage in negotiations of this kind," the Russian news agency cited her as saying.
Choe reiterated that Pyongyang's demand during the summit was for five key economic sanctions to be lifted, not all sanctions.
She said Washington "has thrown away a golden opportunity this time" in Hanoi. "This time we understood very clearly that the United States has a very different calculation to ours."
North Korean official says the U.S. threw away a golden opportunity at summit between Trump and Kim, who may halt talks and end his moratorium on missile launches and nuclear tests, @EricTalmadge writes. https://t.co/tWvCP7V1sN

— The Associated Press (@AP) March 15, 2019
She also explained that Pyongyang now has no intention of compromising or continuing talks unless Washington changes its "political calculation" and takes measures that are commensurate with the steps North Korea has already taken.
The North has taken several steps toward denuclearization of the Korean Peninsula since last year when Kim and Trump met in their first ever summit in Singapore and agreed to work toward the goal.
It has already suspended missile and nuclear testing, demolished at least one nuclear test site, and agreed to allow international inspectors into a missile engine test facility.
Subsequent diplomacy between the two sides, however, made little progress, mainly because the US refused to lift its harsh sanctions.
Washington insists that sanctions on the North must remain in place until it completely and irreversibly dismantles its nuclear program.
Bolton, Pompeo harden Washington stance 
The North Korean diplomat on Friday criticized Secretary of State Mike Pompeo and national security adviser John Bolton for their "uncompromising demands" which she said have hardened Washington's position.
The two US diplomats have "created the atmosphere of hostility and mistrust and, therefore, obstructed the constructive effort for negotiations between the leaders of North Korea and the United States," she said.
US national security adviser John Bolton warns North Korea of more sanctions if it is not willing to completely give up its nuclear program.
According to South Korea's former unification minister Jeong Se-hyun, Bolton may have played a major role in the breakdown of the summit by advocating "moving the goalposts."
Bolton, who has a long history of disregard for international law, said after the summit that the president was right not to make a deal that wasn't in the best interests of the US.
"I don't agree at all that it was a failed summit," Bolton said.
Chairman of the House Intelligence Committee Adam Schiff, however, disputed Bolton's remarks, saying, "Of course the president did give up a great deal."