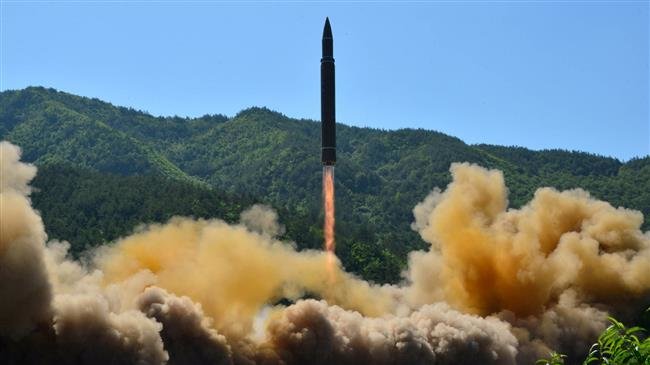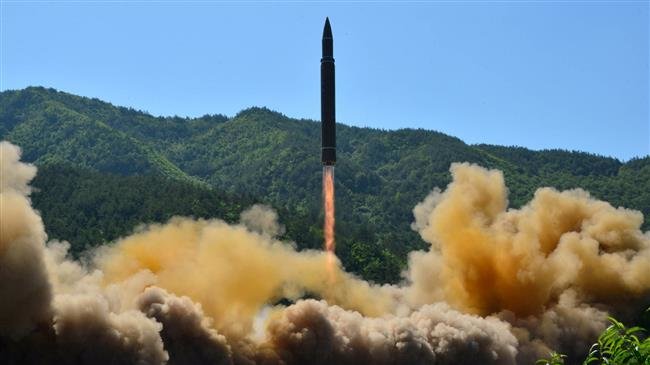 An American think tank says North Korea has expanded a missile base near its border with China that would possibly be one of the sites to deploy intercontinental ballistic missiles (ICBM) capable of reaching the United States.
An analysis by the Middlebury Institute of International Studies at Monterey in California said on Thursday that recent satellite imagery shows activities at the Yeongjeo-dong missile base.
The border site, which is near North Korea's mountainous central border with China, "has long been a concern to US and South Korean officials because of its unique location," the report said.
"Satellite images (one of the seen below) show that the base remains active. Moreover, in the past year North Korea has significantly expanded a nearby facility that appears to be another missile base," said the Middlebury Institute report.
Jeffrey Lewis and David Schmerler from the Middlebury Institute said that the geographic locations of Yeongjeo-dong and the nearby site make them "strong candidate for the deployment of future missiles that can strike the United States."
"The base is located in the interior of North Korea, backed up against the Chinese border," the two added.
Lewis told CNN that Pyongyang continued construction work on the previously unidentified site "even after the Singapore Summit" between North Korean leader Kim Jong-un and US President Donald Trump in June.
"Whatever Kim says about his desire for denuclearization, North Korea continues to produce and deploy nuclear armed missiles," he said.
Asked by CNN about the recent report, Pentagon spokesperson Chris Logan said, "We watch North Korea very closely. We continue to support the diplomatic process. We will not discuss matters of intelligence."
A  South Korean military spokesman Roh Jae-cheon said on Thursday that the border missile site "is one of the important locations in North Korea our military is monitoring in cooperation with the United States. He, however, declined to provide further details.
In their June summit in Singapore, Trump and Kim agreed to work toward denuclearization, but that agreement, made in a written document, was broadly-worded.
Still, the North has suspended missile and nuclear testing, demolished at least one nuclear test site, and agreed to allow international inspectors into a missile engine test facility and another nuclear testing site.
North Korean authorities have complained about continued US and UN sanctions, calling them a "source of mistrust." They have also denounced what they have called the US "gangster-like behavior".
Pyongyang says Washington has betrayed the spirit of the June's summit by making unilateral demands on the complete, verifiable and irreversible denuclearization, while keeping the sanctions in place.
Last month, South Korea dismissed a report by The Washington-based Center for Strategic and International Studies (CSIS) that said it had identified at least 13 of an estimated 20 undeclared missile operating bases in North Korea.
South Korea to buy US-built ship-to-air missiles
Meanwhile, Seoul's arms buying agency said that the government plans to purchase dozens of US-built ship-to-air missiles, in an order worth about $300 million.
An official of South Korea's Defense Acquisition Program Administration (DAPA) said on condition of anonymity that there would be "dozens," with the total order valued at about 340 billion won ($304 million).
Citing security concerns, the official declined to state the number of missiles.
Since 2013, South Korea has bought Standard Missile-2s, developed by Raytheon Co, in installments to equip three Aegis destroyers preparing to be deployed in the mid-2020s.
North Korea gearing up for Xi visit
The North is preparing to host a new round of summit between Kim and Chinese Prime Minister Xi Jinping in Pyongyang.
North Korea's Foreign Minister Ri Yong Ho arrived in China on Thursday for the start of a three-day official visit.
Ri met his with Chinese counterpart Wang Yi in the capital Beijing on Friday.
The Chinese Foreign Ministry said in a statement that they expected Ri and Wang to have a "deep exchange of views" on China-North Korea relations, the situation on the Korean peninsula and other issues of mutual concerns during their meeting.
It is also said Ri's visit would include the subject of a summit between Xi and Kim. If confirmed, it would be the first visit of a Chinese president to North Korea in more than 13 years.
China, North Korea's most important economic and diplomatic ally, has improved ties with Pyongyang in the last year.
North Korea has firmly defended its nuclear and missile programs as a deterrent against the hostile policies of the US and its regional allies, including Japan.