Korea
North Korea satellite imagery 'suggestive of submarine missile launch'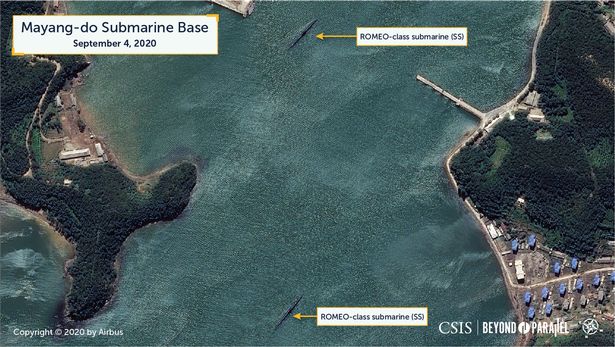 An American think tank has claimed that satellite imagery of a North Korean shipyard shows activity suggestive of Pyongyang's readiness to test a medium-range submarine-launched ballistic missile.
The Center for Strategic and International Studies (CSIS) reported on Friday that the images it had published on its website of North Korea's Sinpo shipyard showed several vessels within a secure boat basin, one of which was similar to those previously used to tow a submersible test stand barge out to sea.
The Washington-based think tank said the activity was "suggestive, but not conclusive, of preparations for an upcoming test of a Pukguksong-3 submarine launched ballistic missile from the submersible test stand barge."
The CSIS also underlined that the images showed some activity around the static test stand on the south side of the Sinpo South Shipyard.
Last October, North Korea announced that it had successfully test-fired a Pukguksong-3, a new submarine-launched ballistic missile (SLBM), from the sea as part of efforts to contain "outside forces' threat," and strengthen self-defense.
The Pukguksong-3 flew 450 km over waters off the eastern city of Wonsan and reached an altitude of 910 km with an estimated range of about 1,300 km on a standard trajectory.
The United States censured the launch at that time and called on North Korea to "refrain from provocations" and to remain committed to the nuclear negotiations already held between US President Donald Trump and North Korean leader Kim Jong-un.
Pyongyang had been developing SLBM technology before it suspended long-range missile and nuclear tests and began talks with the United States that led to the first summit between Kim and Trump in Singapore in June 2018.
The satellite imagery on Friday has sparked alarm in the US as Trump is seeking reelection in November and a North Korean missile test before that would highlight the lack of progress in nuclear talks between the two sides.
The Republican president has hailed the absence of intercontinental ballistic missile and nuclear tests by North Korea since 2017 as a success for his administration's foreign diplomacy.
North Korea conducted six nuclear tests between 2006 and 2017. In 2018, the country suspended its nuclear and missile tests and demolished a nuclear test site as signs of goodwill in the course of diplomacy then underway with the US.
Kim and Trump have met three times, but diplomacy has gradually halted owing to Washington's refusal to relieve any of the harsh sanctions in exchange for the goodwill measures by Pyongyang.
Early this year, Kim also called off two years of the moratorium on nuclear and missile tests and said Pyongyang would soon develop a "new strategic weapon."
The US has imposed rounds of unilateral sanctions against the North over its nuclear and missile programs since 2006.