Korea
North Korea says army must develop to be able to beat U.S.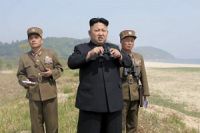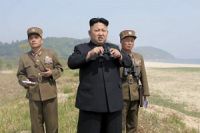 A day after U.S. President Barack Obama warned the North of its military might, North Korean leader Kim Jong Un urged the army to develop to ensure it wins any confrontation with the United States.
According to Reuters citing KCNA news agency on Sunday, Kim led a meeting of the Central Military Commission and "set forth important tasks for further developing the Korean People's Army and ways to do so".
According to this North Korean News Agency, "He stressed the need to enhance the function and role of the political organs of the army if it is to preserve the proud history and tradition of being the army of the party, win one victory after another in the confrontation with the U.S. and creditably perform the mission as a shock force and standard-bearer in building a thriving nation."
Obama said on Saturday on a visit to Seoul, where the U.S. army has a large presence, that the United States did not use its military might to "impose things" on others, but that it would use that might if necessary to defend South Korea from any attack by the reclusive North.