Korea
North Korea Unveils New Ballistic Missile, Vows Strong Response to 'Hostile Forces'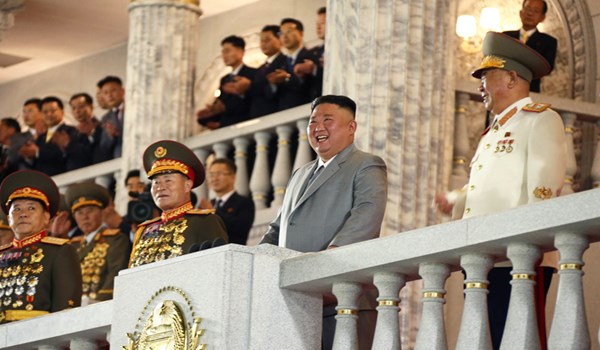 North Korea unveiled a new intercontinental ballistic missile (ICBM) at a military parade during which leader Kim Jung-un vowed to preemptively mobilize his strongest military power in the face of any foreign threat.
The missile, which was shown on a transporter vehicle with 11 axles, is the first long-range weapon that Pyongyang unveiled in two years, presstv reported.
Footage from an early Saturday morning parade, which was held to mark the 75th founding anniversary of the ruling party, shows a 22-wheeled transporter carrying the new missile.
Analysts have described the weapon as one of the largest road-mobile intercontinental ballistic missiles in the world if it becomes operational.
"This missile is a monster," said Melissa Hanham, deputy director of the Open Nuclear Network.
Pyongyang also displayed the Hwasong-15, the longest-range missile it has ever tested and what is thought to be a new submarine-launched ballistic missile.
Addressing the event, Kim said North Korea will continue to strengthen its defense power in the face of "hostile forces".
"We will continue to strengthen war deterrence for self-defense to deter, control and manage all dangerous attempts and threatening acts, including ever-growing nuclear threats, from hostile forces," Kim said.
He also apologized to the nation for not having "been able to repay you properly for your enormous trust".
"My efforts and devotion were not sufficient to bring our people out of difficult livelihoods," Kim said, citing international sanctions, typhoons, and the coronavirus pandemic as the reasons for economic shortfalls.
Th country has in recent years been subject to multiple UN Security Council sanctions over its nuclear and missile programs. The US has spearheaded those sanctions and has imposed several of its own.
North Korea, which conducted six nuclear tests between 2006 and 2017, suspended its nuclear and missile tests in 2018, and demolished a nuclear test site as signs of goodwill in the course of diplomacy then underway with the US.
Kim has met US President Donald Trump three times, but diplomacy has gradually halted owing to Washington's refusal to relieve any of the harsh sanctions in exchange for the goodwill measures by Pyongyang.
Early this year, Pyongyang eventually called off two years of the moratorium on nuclear and missile tests and said it would soon develop a "new strategic weapon".
A UN human rights expert called on the Security Council this year to "reconsider [the] sanctions" as they are worsening humanitarian crisis in the country amid the pandemic.
Tomas Ojea Quintana, the UN special rapporteur on human rights in North Korea, warned that the sanctions had interrupted food supplies and subsequently precipitated a humanitarian crisis in the country.