Asia-Pacific
Korea
North Koreans vote in elections after collapse of talks with US
North Koreans are taking part in parliamentary elections in their millions to choose 700 members for the Supreme People's Assembly, the most powerful body in the country.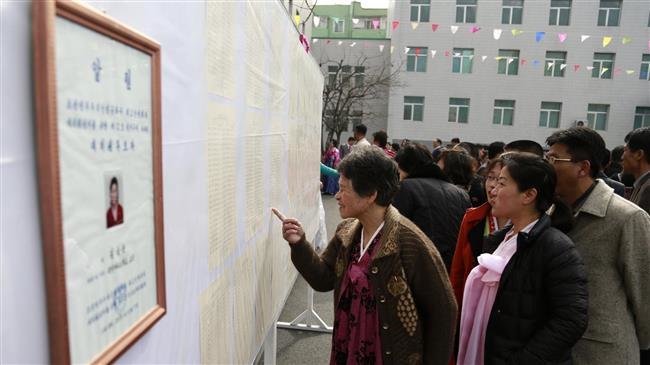 The elections, which are held every five years, started at around 10 am (0100 GMT) on Sunday, and will continue until late evening.
The candidates, who come from all over the country and all walks of society, mostly hail from the ruling Korean Workers' Party. However, some of them come from a handful of other smaller coalition parties.
Photos and profiles of all the candidates are made available to voters before the election. If voters approve a candidate, they cast the ballot with their name in the box in a private booth. If not, they draw a line on the candidate's name.
"The election system of the DPRK [Democratic People's Republic of Korea] is most popular and democratic as it makes all citizens take part in the election of power organs with equal rights," the North's official news agency said.
The state-run Korean Central News Agency (KCNA) said the elections were "an important occasion in further strengthening the government and displaying the solidity and invincibility of the socialist system in which the leader, the party and the masses form a harmonious whole."
"I'm very proud to be voting for the first time," 19-year-old university student Kim Ju Gyong told Associated Press.
Election days have a festive mood in North Korea with bands playing music as voters wait in line. Turnout is expected to be as high as 99 percent.
The elections come shortly after North Korean leader Kim Jong-un and US President Donald Trump attended a summit in Hanoi to discuss denuclearization of the Korean peninsula.
North Korean state media says the people in the country blame Washington for the lack of an agreement during the second summit between Trump and Kim in Hanoi.
State media in Pyongyang said on Saturday the people of North Korea blame the US for the collapse of the talks.
The Rodong Sinmun, the newspaper of the North's ruling Workers' Party, admitted for the first time that the Hanoi summit had failed to yield intended results.
"The public at home and abroad … are feeling regretful, blaming the US for the summit that ended without an agreement," the paper said in a commentary.
US news outlet NPR also reported that North Korea may be preparing for a missile or space launch, based on satellite image analysis of a key facility near Pyongyang.