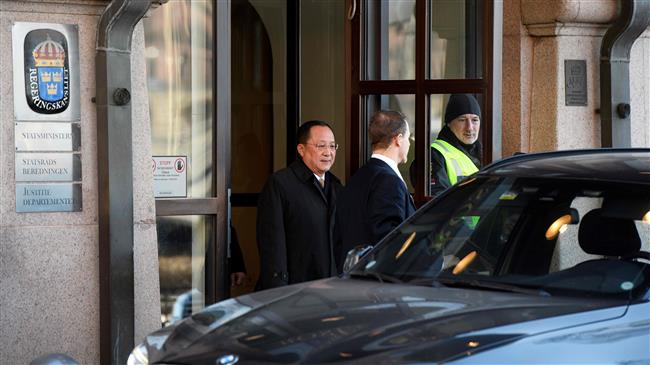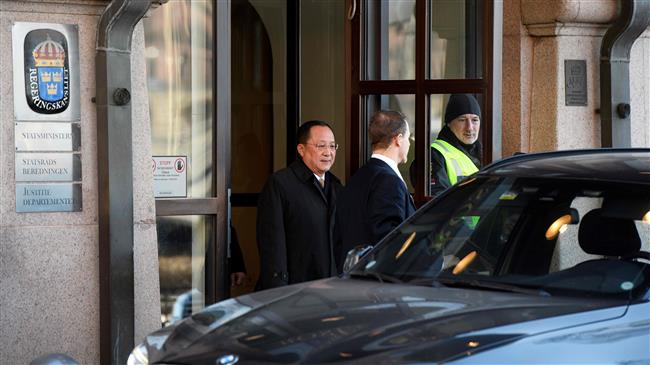 North Korea's foreign minister has finished three days of a visit to Sweden, where discussions reportedly focused on resolving the conflict on the Korean Peninsula.
Foreign Minister Ri Yong-ho arrived in the Swedish capital, Stockholm, on Thursday, in a visit about which few official details were available but that may have focused on the logistics of potential mediation by Stockholm between Pyongyang and Washington.
During his stay in Sweden, and amid a diplomatic opening with South Korea and the United States, Foreign Minister Ri met both with his Swedish counterpart, Margot Wallstrom, and Prime Minister Stefan Lofven.
The visit, originally planned to end on Friday, continued into the weekend.
The Swedish Foreign Ministry on Saturday released a tightly-worded statement about the meeting between Ri and Wallstrom.
"The foreign ministers discussed opportunities and challenges for continued diplomatic efforts to reach a peaceful solution to the conflict as well as bilateral relations," the ministry said. "Sweden underlined the need for North Korea to dismantle its nuclear arms and missiles program in line with several Security Council resolutions."
There was no immediate comment from Foreign Minister Ri.
"The dialog has been constructive. It should be seen as a positive sign that the meeting was extended (until Saturday)," a source with knowledge of the discussions said, according to Reuters, which did not identify the source.
The media have been speculating that Sweden may host a meeting that US President Trump has said is being planned between him and North Korean leader Kim Jong-un "by May." Trump expressed his eagerness in that meeting last month, after he was briefed by two top South Korean officials who had earlier met with Kim in Pyongyang and seemed to convey a message on his behalf.
There has been no official confirmation from Pyongyang or Stockholm, however.
Trump reaffirmed on Friday that he was willing to meet Kim.
The two Koreas have been improving ties since January, when Pyongyang announced its willingness to participate in the Winter Olympics. The two neighbors have been separated by a heavily-militarized border since the end of the Korean War in 1953.
The US and its regional allies South Korea and Japan oppose the North's nuclear and missile programs. Pyongyang says it needs to advance those programs to be ready to counter potential military aggression by the US or South Korea — or both.
But tensions have significantly subsided since January; and the South Korean officials who met with Kim have cited him as saying that he is ready to give up North Korea's nuclear and missile programs if the security of the country is guaranteed.