Lebanon
November 11, 1982: When a Hezbollah Youngman Slapped Israel in the Face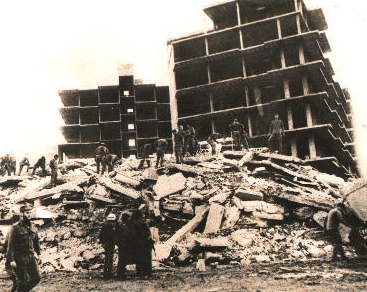 It was November 11, 1982, when a young man from Hezbollah, Ahmad Kassir, detonated his explosive-rigged car at the headquarters of the Israeli military command in Tyre, just few months following the Israeli invasion.
The massive explosion leveled the seven-story building and killed nearly 80 Israelis, including generals and officers. At least 110 others were injured in the blast which raised eyebrows in both Tel Aviv and Washington.
"It was the first time when a young man rode his explosive-laden car and raided a fortified stronghold of the enemy," Hezbollah Secretary General said about Ahmad Kassir, 18, on Martyr's Day ceremony in 2001.
"The operation had paved the way for the Resistance fighters to carry out similar attacks against the Israeli enemy. However, no other operation got the glory which Ahmad Kassir's had gotten, especially regarding the death toll," Sayyed Nasrallah said.
"We see Ahmad Kassir in the face of all our fighters who carried out operations against the Zionist occupiers. His operation has founded for the self-sacrifice attacks staged then by the Resistance."
Hezbollah assigned November 11 as Martyr's Day, in remembrance of martyr Ahmad Kassir who heroically slapped the Zionist entity in the face at a time on one even dared to think about confronting an Israeli soldier.
About Ahmad Kassir
Martyr Ahmad Kassir was born in the Southern village of Deir Qanoun al-Nahr, on the 4th of September 1963. He grew up in a religious family. Although he couldn't finish his academic education, Kassir had a strong passion for reading. He used to buy different books and was up-to-date with new publications.
The young man, who was called "Prince of Martyrs", was well-known for his good manners, kindness and bravery. Among his friends he was known for his anti-Israel stances. "No recognition to the enemy and its presence", he always said.
Source: Al-Manar English Website