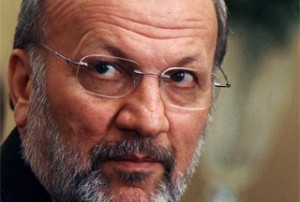 Iran's foreign minister says the countries that are regarded as the guarantors of the Nuclear Non-Proliferation Treaty (NPT) possess vast nuclear arsenals themselves.
In a live interview with Press TV on Tuesday night, Manouchehr Mottaki stated that the NPT does not have a "shining history" and noted that 40 years have passed since the birth of the treaty but it has failed to realize its goals.
"There are three pillars to the NPT, namely, the possibility for the use of nuclear energy for member states, non-proliferation as a serious policy to be adopted, and… [nuclear] disarmament," the Iranian foreign minister said.
"When we take a glance at the 40-year history of the NPT, we see that it does not have a shining record. The main reason is that the safeguarders and guarantors of the NPT are actually possessors of nuclear weapons," he added.
Mottaki said that the recent nuclear disarmament conference that was held in Tehran was a success because the participants highlighted the necessity for nuclear disarmament.
The Nuclear Energy for All, Nuclear Weapons for No One conference, which was held from April 17 to 18, brought representatives from 60 countries together in the Iranian capital.