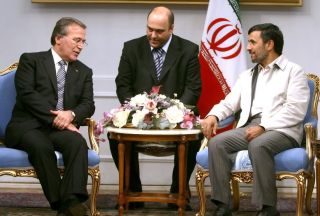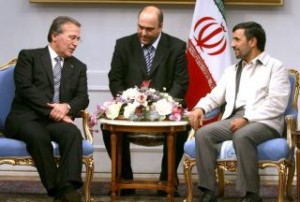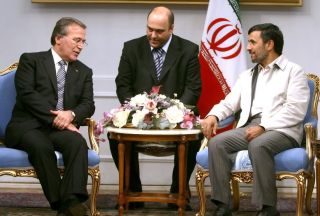 After Iran faced new UN sanctions over its nuclear program, the Turkish parliament speaker says the Tehran declaration on a nuclear fuel swap is still on the table.
Iran, Brazil and Turkey issued a joint nuclear declaration last month in which Iran agreed with Western demands to send its low-enriched uranium abroad in return for nuclear fuel.
Turkey believes that the Tehran declaration will earn respect and honor for the three countries that signed it but countries which voted for a fourth round of sanctions on Iran at the UN Security Council will be ashamed, Mehmet Ali Sahin said in a meeting with Iranian President Mahmoud Ahmadinejad in Tehran on Monday.
Ignoring Iran's confidence-building measure, the UN Security Council approved a new resolution for more UN sanctions against Iran last week. Of the 15-member council, Brazil and Turkey voted against the resolution while Lebanon abstained.
Sahin praised the Tehran declaration as a proper and thoughtful move and said the world asserts that Iran, Turkey and Brazil seek to settle issues through peaceful and logical ways.
The Iranian president said Tehran and Ankara share common interests on regional and international issues.
Ahmadinejad added that the Tehran declaration is a living mechanism and will play its role in international developments.
"The Tehran declaration is the beginning of a new era … It did not just address Iran's nuclear issue but presented a new model for global relations based on negotiations, logic and justice," he said.
Ahmadinejad said the world powers were not happy with the declaration as they do not seek to settle problems through justice.
"They are only after their own interests," he added.