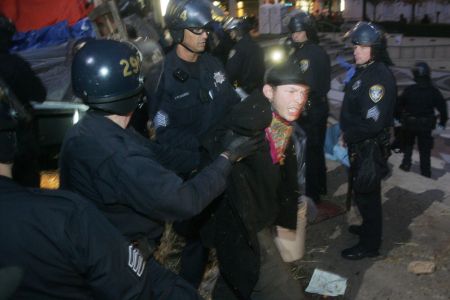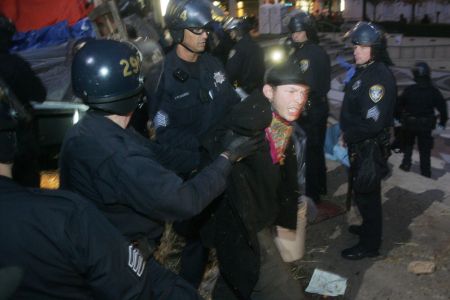 The US police have attacked the Global Revolution Livestream office of Occupy Wall Street (OWS) movement in New York, arresting several activists and journalists as the crackdown on media intensifies.
The Tuesday raid on the Brooklyn studio of Globalrevolution.tv, which covers OWS protests via live stream, followed a police order to the anti-corporatism protesters to vacate the studio.
Meanwhile, protesters have planned to rally in New York's Grand Central Terminal to protest against the National Defense Authorization Act (NDAA).
They say the legislation is an attempt to restrict their civil liberties.
The National Defense Authorization Act provides USD 662 billion in funding for military spending, including military pay raises, weapon systems and funding for the war in Afghanistan in 2012.
The measure, passed by wide majority in Congress, says the US military has the power to detain terrorist suspects without trial for as long as the so-called US war on terror continues.
The bill contains several provisions that rights groups and advocates have vehemently opposed, arguing that they could allow indefinite detention and interrogation of US citizens and non-citizens suspected of being linked to terrorism and deny them legal rights protected by the constitution.
President Barack Obama signed the controversial bill into law on New Year's Eve.
US police have so far arrested over thousands of anti-corporatism protesters since the beginning of the movement in September last year.
The OWS movement began when a group of demonstrators gathered in New York's financial district on September 17 to protest against the unjust distribution of wealth in the country and the excessive influence of big corporations on US policies.
The protest movement has given voice to outcries and grievances of people against poverty, unemployment, war, and corporatism.