Human Rights
North America
NY's homeless forced to seek shelter on subway trains, wreaking 'mayhem'
Reports of homeless people relying on subway cars for shelter in New York City amid the coronavirus have stirred up anger there.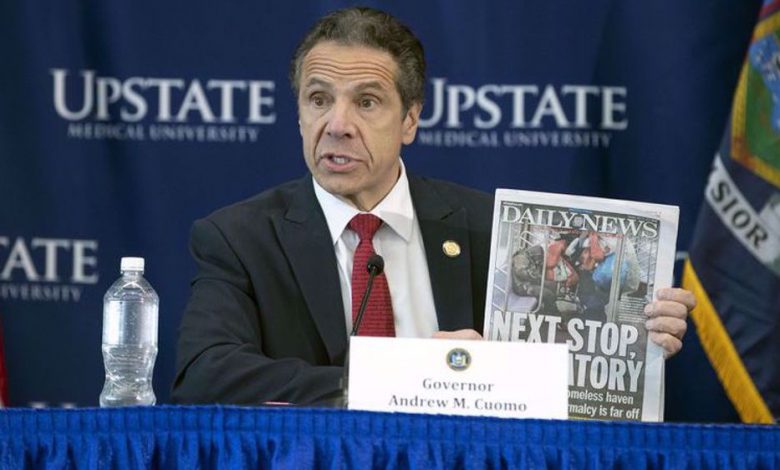 Addressing the issue during a daily press briefing on Tuesday, New York Governor Andrew Cuomo held up a copy of the New York Daily News, which read "Next stop, purgatory" as the headline, showing a down-and-out person in a train car.
According to the newspaper, there were 10 hours of chaos on the subway with essential Metropolitan Transit Association (MTA) employees witnessing arson, inappropriate sexual behavior, and human waste from people who have used the subway as a temporary home.
"That is disgusting, what is happening on those subway cars. It's disrespectful to the essential workers," Cuomo said on Tuesday.
"It's not even safe for the homeless people to be on trains. No face masks, you have this whole outbreak, we're concerned about homeless people, so we let them stay on the trains without protection in this epidemic of the Covid virus? No. We have to do better than that, and we will."
He went on to say that when Covid-19 first started in the city, talks focused on closing public transport in order to stop the spread of the virus, but later state and local officials agreed it was necessary to keep the MTA running so that essential workers, such as healthcare professionals, can commute between home and work.
Meanwhile, New York City Mayor Bill de Blasio Tuesday demanded that 10 select subway stations be closed to help the NYPD clear out homeless people.
So far, more than 1,035,000people have been affected by the virus in the United States, and over 59,000 people have died, of which over 17,600 were in New York City, the epicenter of the pandemic in the US.
Cuomo said Tuesday that 335 people had died of the virus over the previous 24 hours.