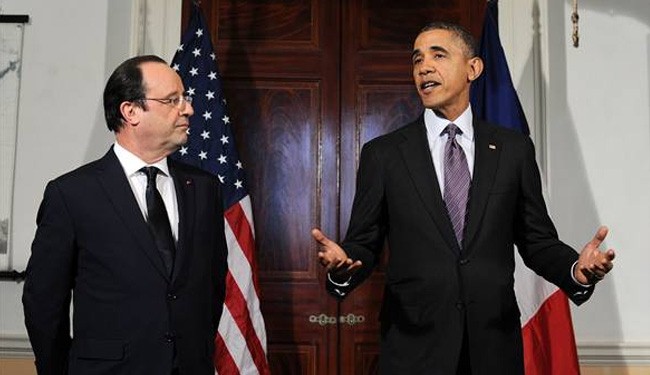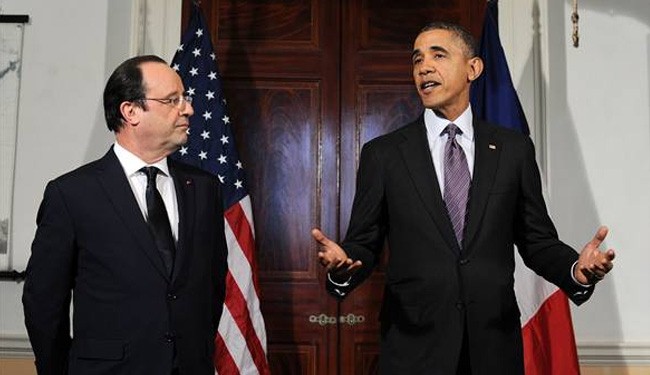 US President Barack Obama has acknowledging that Syrian peace talks were far from reaching their goal.
"There's enormous frustration here," Obama Tuesday said of the Syrian peace talks.
Obama made the remarks at a joint news conference with French President Francois Hollande, a key partner in the Syrian efforts.
The comments came as peace talks between the Syrian government and opposition forces have gained no traction.
On Tuesday, Russian Foreign Minister Sergei Lavrov called on the West to refrain from their one-sided accusations against Damascus government which has been struggling to save the country from a multinational foreign-charged war for nearly three years.
"Our Western partners in the Security Council … proposed that we cooperate in working out a resolution. The ideas they shared with us were absolutely one-sided and detached from reality," the Interfax news agency quoted Lavrov as saying.
He said a draft UN resolution on aid access in Syria was "detached from reality" and Russia would be ready to consider a draft only if it was "not about one-sided accusations aimed at the regime".
Australia, Luxembourg and Jordan last week presented their draft resolution to the Security Council which called for putting more sanctions against Syria. Moscow swiftly rebuked the proposal because it would add up to the pressure over Syrian people who have been suffering from an extremist-marked war in their country.
Lavrov also called upon the Security Council to agree a resolution condemning terrorist activities in Syria.
Nature of the Syria war soon turned to an extremist-marked violence, after pro-reform protests were seized by al-Qaeda-linked and radical groups with interventions from foreign countries such as Qatar, Turkey and Saudi Arabia.
Syria has asked the UN Security Council to act against terrorist groups operating inside Syria with foreign support, but its attempts have been blocked by US and its allies which support the insurgency to change the Syrian government.