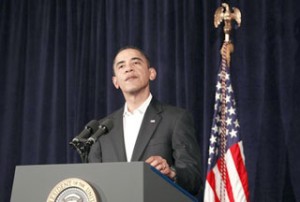 US President Barack Obama has commended employees of the Central Intelligence Agency (CIA) who were killed in an attack in Afghanistan.
"Because of your service, plots have been disrupted, American lives have been saved and our allies and partners have been more secure," Obama wrote in a letter to CIA employees on Thursday.
The US president also called the attack "a sad occasion in the history of the CIA and our country."
Earlier on Wednesday, a bombing of the CIA post at Camp Chapman in Khost province, southeastern Afghanistan, left at least seven employees dead.
CIA director Leon Panetta confirmed that the causalities were the agency's workers, saying that another six were also injured.
The Taliban has claimed responsibility for the bombing.
The incident was the deadliest attack targeting the CIA since 1983, when eight agency employees were killed when a bomb attack on the US Marine barracks in Beirut killed 241 Americans and 58 French nationals.